2020 Mazda Mx - 5 Miata Luggage Test | How Much Fits In The Trunk?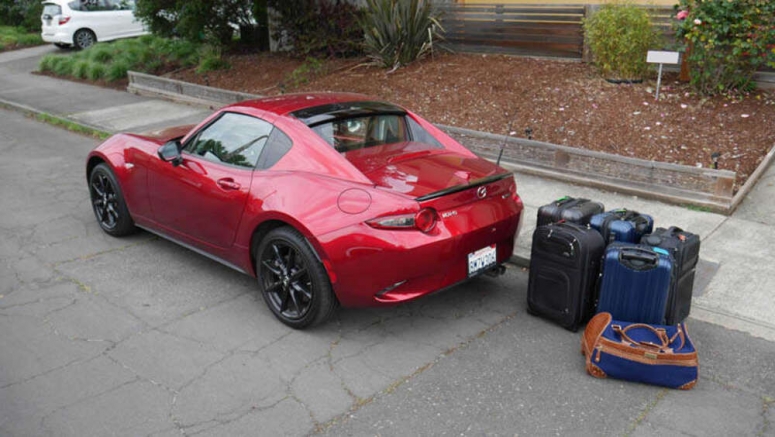 The Mazda Miata would not be my first choice for a road trip car. Would probably be in the bottom 10, in fact. The interior fits me like a coffin, the seats pinch my back and the amount of passenger legroom is laughable. It's not exactly the most serene car, either.
But hey, there are sadists out there who may want to venture somewhere in it. I work with some of them. So, as they were the ones who requested this, here is the answer to the question: how much luggage fits in the Miata's trunk?
Alright, so on paper, the Miata RF has 4.48 cubic-feet of trunk volume. The regular soft top Miata, the one you should absolutely get instead, has 4.59. Does that different matter? Probably not.
However, when talking about trunks in this diminutive size range, the shape is the ultimate factor. For instance, the Porsche 911's 4.6-cubic-foot frunk is basically the same as the Miata's, yet it's narrower and deeper. My BMW Z3's trunk is 5 cubic-feet, yet it's wider, longer and much shallower. On paper, they'd seem to be the same, but you can't fit the same items within them.
Usually, I'd now list all the bags I have to test, but dude, in the words of Jay Mohr in "Go" ...