2021 Toyota Yaris - Based Suv And Yaris Cross Spied Playing In The Snow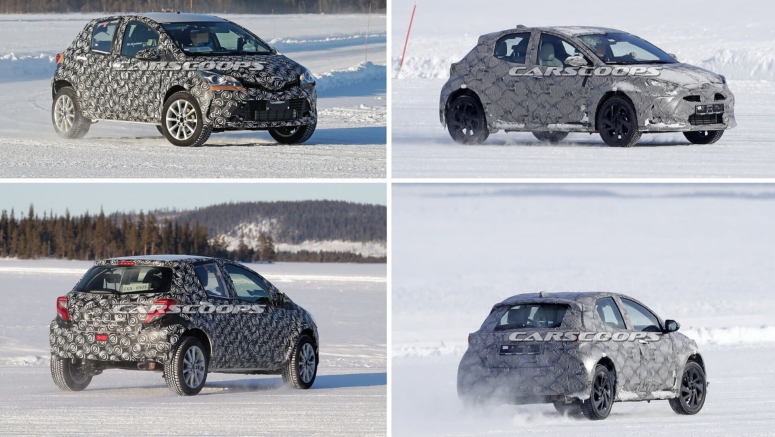 Toyota will be expanding its small car portfolio with the addition of two models. One of them will be the Yaris Cross (name unconfirmed) and the other will be the Yaris-based small SUV.

Both of them were spied testing in northern Europe recently. The first batch of spy shots puts the spotlight on a subcompact hatchback mule using the bodywork of the previous-generation Yaris with a very generous ground clearance and vinyl stickers covering most of the body.
We believe this is a test mule for the upcoming small SUV that will slot under the C-HR, assuming the role of the company's entry-level crossover. The model will offer hybrid power and available AWD, with the latter being rather uncommon in the class.
Read More: Toyota Yaris-Based Small SUV Confirmed, Will Slot Under The C-HR
Confirmed earlier this year, the yet-to-be-named model will share the Onnaing, France, assembly line with the Yaris. According to Europe's VP, Matthew Harrison, it will be much more than "a Yaris with body cladding and raised suspension", as the goal is to make "an entirely new and distinctive B-SUV model, with a compact, dynamic design and a personality of its own."
When it debuts sometime in the second half of 2020, it will be positioned against the likes of the Nissan Juke, Renault Captur, Opel/Vauxhall Mokka X, Peugeot 2008 and other B-segment crossovers.
The second tester brought forward by our spies shows a prototype with proportions similar to the latest Yaris. However, it does ride a bit higher off the ground, and while the camouflage may do a good job at hiding the changes, we expect it to feature plastic cladding on the lower parts of the body, and probably different bumpers.
Some say that this model has been christened the Yaris Cross, but the information has yet to be confirmed. What we can tell you is that it should arrive in showrooms across Europe later this year, as an alternative to the Ford Fiesta Active.
Photo
Gallery