2022 Lexus Is 500 F Sport Performance Brings Naturally Aspirated, 472 Hp V8 Thrills To America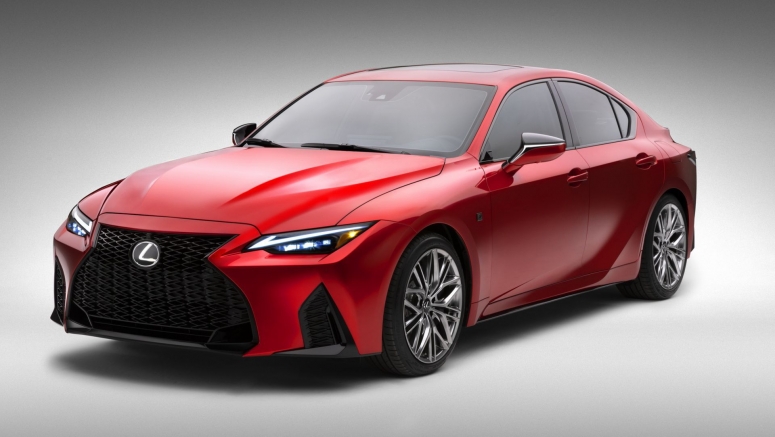 When it was updated for the 2021 model year, people accused the IS 350 F Sport of needing a little more engine. Well, Lexus has listened.
The brand announced today that it is stuffing its naturally aspirated 5.0-liter V8 under the hood of its smallest (North American) sedan and calling it the IS 500 F Sport Performance. Needless to say, this mechanical set-up is a dying breed in the age of smaller, force-fed or even electrified engines, and if anything, Lexus deserves our praise for giving it what could very well turn out to be a last hurrah.
Five Liters Of Fury
So strained is the IS to contain the engine's heft that the hood has been raised two inches to accommodate it. Despite making 160 more horses than the V6, though, the 3,891-pound IS 500 weighs just 143 lbs more than the IS 350.
The engine, which you may recognize from the RC F, makes 472 HP at 7,100 rpm and 395 lb-ft of torque at 4,800 rpm. That's around about the same amount as the base M3, which gets 473 hp and 406 lb-ft of torque out of its twin-turbo 3.0-liter inline 6. The Competition model can be ordered with more than 500 hp, though.
Read More: 2021 BMW M3 And M4 Combine Controversial Looks With AWD And Up To 503 HP
That power is sent to the wheels through the same 8-speed automatic transmission as the less-powerful RWD members of the IS lineup. It's all good enough to get the car from 0-60 in just 4.5 seconds or 0.4 seconds slower than the base M3 and two tenths slower than the RC F.
The point, though, isn't just to take on the competition on the spec sheet. Chief Engineer Naoki Kobayashi's mission was apparently to deliver more balance, refinement, and confidence than ever before.
More Than Just Muscle
As a result, the engine's power reaches the rear wheels through a Torsen limited-slip differential that should help the IS 500 behave itself through the corners. Lexus also turned to Yamaha for the rear damper and promises that it will increase agility, low-speed comfort, and high-speed stability.
Furthermore, it will come standard with F Sport's Dynamic Handling Package. That means adaptive variable suspension and steering designed specifically for linearity. Brake response was also one of Lexus's priorities.
Helping slow things down are 14-inch two-piece aluminum disc brakes up front and 12.7-inch discs in the back. And to ensure that they perform as well as possible for as long as possible despite the added weight and power, Lexus has improved brake cooling over the IS 350 through aerodynamic optimization.
Flying Down The Road Looking Fly
The wheels will be surrounded by 19-inch 10-spoke alloy wheels supplied by Enkei. These, says Lexus, are 1 pound lighter at the front and 2 lbs lighter at the rear than the IS 350 F Sport's wheels.
Speaking of things of which there are four, Lexus has chosen to highlight its quad-exhaust tips with a revised lower rear diffusor. A rear lip spoiler, dark chrome window tinting, and lengthened front and rear bumpers help round out the IS 500's newer, meaner look.
Big Tech To Go With A Big Engine
Inside, meanwhile, occupants are greeted by F Sport Performance badging on the heated, leather-wrapped steering wheel and door sill scuff plates. Upon turning the car on, the driver is treated to an IS 500-exclusive startup animation in the instrument cluster.
Drivers will also be able to select between a number of drive modes. These include Sport S and Sport S+, which provide the most extreme engine and transmission mapping while adjusting the steering assist and damping force to deliver the sportiest driving experience possible.
If those don't quite do it for you, you can create your own drive modes. Lexus's system can adjust things like the powertrain (Normal/Eco/Power), the chassis (Normal/Sport), and the air conditioner (Normal/Eco).
To help keep you safe when you aren't misbehaving, Lexus has also been sure to add its Safety System+ to the IS 500. The system uses radar and cameras to offer warnings before an imminent collision, automatic emergency braking when things get worse than imminent, and functions to warn you about cyclists and pedestrians.
In fact, the new car's improved cameras and radar system give the system more range and increase its effectiveness.
On the more comfort-oriented side of the scale, the IS 500 can help keep you in your lane with Steering Assist and help you follow the car ahead in stop-and-go traffic with All-Speed Dynamic Radar Cruise Control.
How Soon Is Now?
Designed exclusively for the North American market, the IS 500 is the first model in Lexus's over-the-top F Sport Performance lineup and will get badging to reflect that. Pricing, options, and color choices have not been revealed yet. However, Lexus plans to make that information available closer to the IS 500 F Sport Performance's arrival at dealerships this fall.
Photo
Gallery