2022 Toyota Land Cruiser, Corvette's $7k Imsa Pack, Honda Civic Hatch, Nissan Pathfinder, Opel Grandland: Your Morning Brief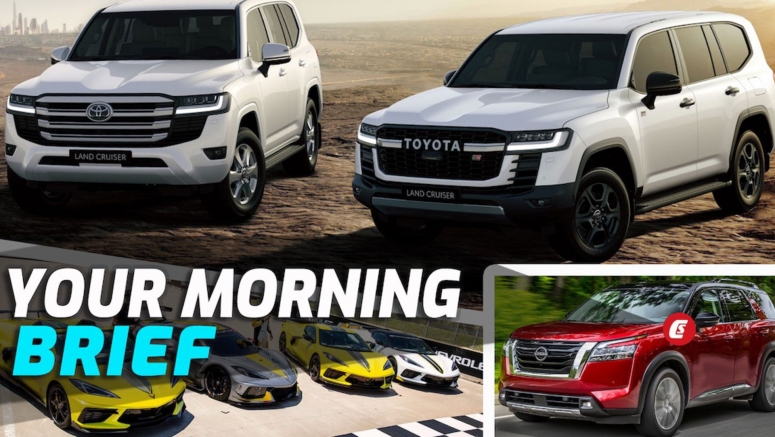 Good morning and welcome to our daily digest of automotive news from around the globe, starting with…
Lordstown Motors Admits It Doesn't Have Enough Money To Start Production
Electric vehicle start-up Lordstown was forced to pull out of the San Felipe 250 desert race back in April, and now it says it might have to pull out of the car business altogether because it doesn't have the cash reserves necessary to start production of its Endurance truck.
2022 Chevrolet Corvette Revealed With Minor Updates And IMSA GTLM Championship Edition
There's still no sign of the Z06 or ZR1 variants, so the big C8 news for '22 is a revised color palette, improvements to the cylinder deactivation function, and a $6595 IMSA GTLM Championship Edition package that adds a carbon wing, numbered plaque and graphics mimicking the ones on the real IMSA racer.
2022 Toyota Land Cruiser Loses Weight, Gains Twin-Turbo V6 And New GR Sport Variant
Toyota is sticking with body-on-frame construction for its all-new Land Cruiser, but has chopped 441 lbs from the curb weight and lowered the center of gravity to ensure it works equally well both on and off road. Gasoline and diesel V6 engines deliver up to 409 hp, though the GR Sport variant Toyota teased should make more.
GM Building Some Pickups And SUVs Without Start-Stop As Chip Shortage Continues
Multiple GMC, Cadillac and Chevrolet vehicles will be delivered without stop-start functionality as GM tries to keep production lines moving in the wake of the chip shortage. Buyers of affected trucks and SUVS will get a $50 credit to reflect the small impact on fuel economy.
Opel And Vauxhall Give The 2022 Grandland A Heavy Restyling
While Jaguar's 2022 I-Pace updates are focused below the skin, including a faster on-board charger that slashes the time to refill a dead battery by 4 hours, changes to Opel's Grandland are much more visible. The compact SUV gets Opel's Vizor grille, LED lights and a comprehensive interior revamp.
2022 Nissan Pathfinder Starts From $34,560, Arrives At U.S. Dealers Later This Month
All four Pathfinder trim levels can be ordered with two- or all-wheel drive, but whichever you choose, you'll get the same 284 hp 3.5-liter V6 and nine-speed automatic transmission behind a huge new grille.
2022 Honda Civic Hatchback Teased Before June 23 Unveiling
Honda is stoking interest in the five-door version of the sensible 2022 Civic sedan it revealed in April. Expect the same sober styling and the choice of 158 hp naturally aspirated 2.0-liter, or 180 hp 1.5-liter turbo fours. A CVT will be standard, so if you want a stick you'll probably have to wait for the Type R.
Three Ferraris Crash Into Each Other On Philadelphia Highway
While Ferrari HQ confirmed the company was teaming up with AF Corse for its Le Mans hypercar program, three Ferraris in Philadelphia teamed up to create absolute carnage during the city's annual supercar Show.
The Classic Simpsons Arcade Cabinet Is Making A $600 Comeback
The reboot of Konami's 1991 coin-op lets you and up to three friends play as Homer, Marge, Bart or Lisa Simpson as you fight off waves of baddies in a bid to save baby Maggie, says the Verge. The 3:4 scale cabinet is expcted to cost less than $600 (£430).
Sony's First Drone Costs As Much As A Used Porsche Boxster
While companies like DJI have made drones fun and affordable, Sony is going for a very different audience for its first flying machine, Gizmodo explains. The Airpeak S1 can hit its 55mph top speed in just 3.5 seconds, but that jaw-dropping $9k (£6.4k) price doesn't include a camera, or even the gimbal to hold it.