2023 Honda Civic Hybrid, Toyota Crown Suv In The Works, And Musk Vs Twitter: Your Morning Brief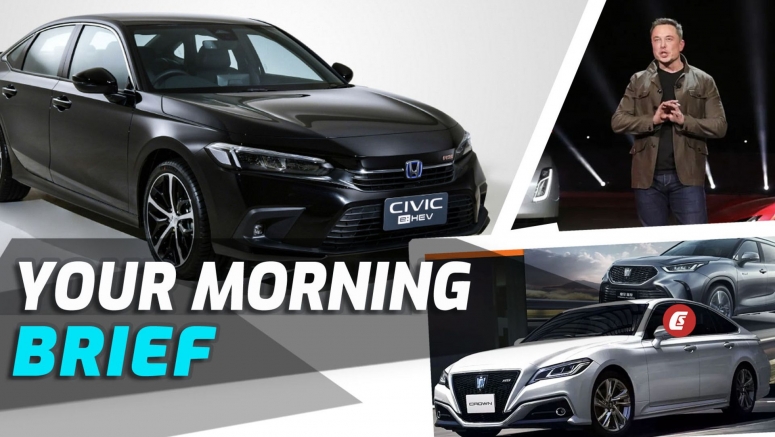 Good morning and welcome to our daily digest of automotive news from around the globe, starting with…
California Proposal Unveils Timeline To Phase Out New Gasoline Car Sales By 2035
California is the first U.S. state to announce plans to phase out sales of new ICE vehicles, and now it has announced a timeline in which it plans to do so. The California Air Resources Board will require 35 percent of new vehicle sales to be powered by batteries or hydrogen by 2026, with that percentage jumping to 100 percent by 2035 – less than ten years later.
Honda Kills Insight, Confirms Civic Hybrid And New 2023 CR-V Hybrid For U.S. This Year
Honda is killing off the Insight sedan and replacing it in the U.S. with an all-new Civic Hybrid. Although Honda didn't specify a timeframe, the Japanese automaker is aiming for increased hybrid sales across a range of models and will be introducing hybrid variants of the CR-V and Accord later this year.
Boutique Manufacturer Tushek Opens Orders For Its TS900 Apex Hybrid Hypercar
Slovenia's Tushek is preparing to reveal what they claim will be the world's lightest hybrid hypercar. The Tushek TS900 Apex is making its global debut on April 21, at the inaugural Salon Privé London. Just 36 units of the Apex will be made, while a further 12 hardcore track-only TS900 RacerPro editions will be offered. The TS900 is powered by a 4.2 liter V8 mated to a pair of electric motors for an output of 1,351 hp.
Fake Press Release Claiming Tesla Brought Lithium Miner Sends Company's Stock Soaring
A fake press release triggered a flurry of stock market activity for a Nevada-based mining company. The price of shares in Lithium Corp rose to $1.09, more than three times what they had been worth before a false release claimed that the company had been bought out by Tesla. The source of the fake press release remains unknown.
Toyota Is Turning Its Legendary Crown Sedan Into An SUV, And It's Coming To The U.S., Report Says
A new report suggests that the Toyota Crown name will appear on a new SUV that will be sold in Japan, China, and the U.S. It's also claimed that the Crown sedan will remain in production alongside the SUV, but it remains to be seen if that version makes it stateside. The report claims that U.S. sales of the Toyota Crown SUV will start in 2023, with a gasoline hybrid model on offer. A plug-in hybrid may be offered in its home market of Japan, while an EV model could appear later.
Fiat Partners With Tenor Andrea Bocelli And JBL For Special Edition 500 La Prima
Fiat's fully-electric supermini has received the special edition treatment, with JBL, tenor Andrea Bocelli, and his son Matteo partnering for the 500 La Prima by Bocelli. It features a 320-watt audio system specially tuned for the 500's small cabin. It also comes with a "Sanitizing Glove Box" that uses a UV-C light to sanitize personal items.
2023 Range Rover Velar Gains Performance HST Edition With 395 HP Straight-Six
The Range Rover Velar has received a new high-performance trim. It utilizes JLR's new Ingenium straight-six engine connected to the same mild-hybrid system found in the Jaguar F-Pace to output 395 horsepower and 405 lb-ft of torque. The HST receives a black contrast roof and full exterior Black Pack and is also available in every color in the catalog, plus the exclusive new Arroios Grey. It also gains Electronic Air Suspension with Adaptive Dynamics, Cabin Air Purification Plus, a sliding panoramic sunroof, and a black Suedecloth headlining and steering wheel.
What Else Is Making The News
Vanguard Group Overtakes Musk To Be Largest Twitter Shareholder
Taking Twitter private at $54.20 should be up to shareholders, not the board
— Elon Musk (@elonmusk) April 14, 2022
The Vanguard Group has reportedly overtaken Elon Musk as the largest shareholder of Twitter, taking a 10.3 percent holding vs. Musk's 9.2 percent. Meanwhile, Musk, who offered to buy Twitter outright for $42 billion, has taken to the platform to poll users on whether "Taking Twitter private at $54.20 should be up to shareholders, not the board."
Ice Age Studio Gives Scart His Acorn Before being Shut Down
The studio behind the Ice Age film franchise has given fans a conclusion to their running gag involving Scrat, the saber-toothed squirrel. The video was made by a small team from Blue Sky Studios, which was shut down after Disney acquired it.