2023 Porsche 911 Sport Classic, 2023 Toyota Gr Supra Manual, And 2023 Mercedes - Amg C 43: Your Weekly Brief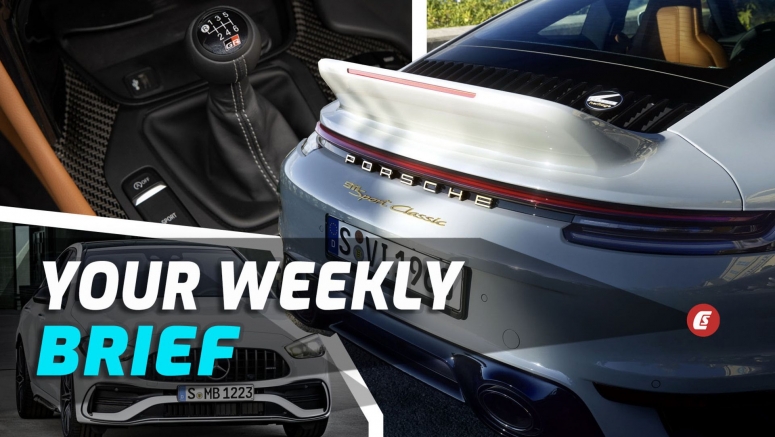 Good morning and welcome to our weekly digest of automotive news from around the globe, starting with…
Tesla's Elon Musk Is Twitter's New Owner, Company Temporarily Bans Product Updates In Fear Of Rogue Employees
If there's one story that has been dominating the mainstream headlines, it's this: Twitter has accepted Elon Musk's bid to take over the company.  After initially taking a 'poison pill' stance to discourage anyone from acquiring more than 15 percent in shares, Twitter's board relented to Musk's "best and final" offer of $54.20 per share. The news hasn't been received well by all quarters. Higherups at Twitter took measures to prevent any disgruntled employees from derailing the situation, while several high-profile names have left the platform. 
2023 Porsche 911 Sport Classic Will Make You Go Woof With Its Houndstooth Seats, Decals Not So Much
The 2023 Porsche 911 Sport Classic is officially the most powerful 911 available with a DIY gearbox. It's not just the seven-speed manual that's considered a throwback either, with the Sport Classic channeling those retro vibes like its predecessor of the 997-generation. The present-day interpretation includes visual cues like a ducktail spoiler, classic decals, black-center Fuchs-style rims, gold-colored badges, and a carbon double-bubble roof. At the back is the 3.7-liter twin-turbocharged flat-six — the same basic powerplant that is found on the 991 Turbo S but detuned to deliver 542hp and 442 lb-ft of torque.
2023 Toyota GR Supra Debuts With New Six-Speed Manual, Limited A91-MT Edition
In more stick-shift news, the 2023 Toyota GR Supra will finally be available with a six-speed manual gearbox. It might be due to pressure from Nissan's Z (more on that further down the page), but a manual transmission is something enthusiasts had been crying out for since the model's return. A host of changes to the car's electronics systems have been made to accommodate the new 'box, including recalibrated traction control, stability control, and anti-roll systems. The transmission itself features software that optimizes engine torque at the moment of clutch engagement and release when upshifting. There will be a limited-edition A91-MT edition to celebrate the stick shift's return, while the 2023 Supra gets a handful of other updates too.
2023 Mercedes-AMG C43 4Matic Loses V6 But Gets 416 HP Kick From 4-Cyl Electric Turbo
Although the headline story is the demise of two cylinders, Mercedes-AMG will be hoping to impress with a peak power output of 416 hp from the new C 43. The four-cylinder turbo engine can achieve these figures thanks to an F1-derived electric turbo. If that sounds familiar, it's because the same technology was used in the recently announced four-cylinder SL 43, albeit with less power. The 2023 C 43 will be available in both sedan and wagon guise (the latter won't make it over to the U.S.) and will go on sale later this year. Prices are expected to start around the $55,000 mark.
Dodge Confirms New Hornet Will Be Revealed This Summer As A Plug-in Hybrid
Following the announcement of their "Chief Donut Maker," Dodge CEO, Tim Kuniskis, confirmed that the upcoming Hornet will be electrified. Asked whether electrified would mean all-electric or hybrid, the CEO said that the company has a lot of cars and that the Hornet will feature a plug-in hybrid powertrain. If previous leaks are to be believed, the Hornet will share a lot with the Alfa Romeo Tonale, suggesting that it will get the 1.5-liter turbo-four with an electric motor, possibly detuned from the 272 hp output found in the Tonale Q4. Kuniskis also confirmed that the crossover SUV will be unveiled sometime in the summer.
Wiesmann Project Thunderball Is A €300,000 Electric Roadster With 671 Hp
Best known for their BMW-powered retro-inspired roadsters, Wiesmann is keeping with the times and going all-electric for its next venture. The Wiesmann Project Thunderball will be made entirely out of carbon fiber, but will still weigh a rather hefty 1,700 kg (3,747 pounds). To counteract this, and to achieve a projected 0-62 mph (0-100 km/h) time of 2.9 seconds, the Thunderball will be powered by two electric motors producing 671 hp (500 kW / 680 PS) and 1,100 Nm (811 lb-ft) of torque.
New Nissan Z Priced In Japan, 400HP Base V6 Costs Only $1,930 More Than 255HP GR Supra 2.0
The good news: Nissan has revealed its Japanese pricing strategy for the new Z, with the car setting its sights squarely on the Toyota GR Supra. The base V6 model of the Z starts from 5,241,500 YEN (equal to US$40,890 at current exchange rates), which is just 246,000 Yen (US$1,924) more than the four-cylinder base GR Supra SZ. The inline-six version of the GR Supra starts at 7,313,000 Yen (US$57,215), which makes the V6-only Z look like a bargain across all its trim levels. The bad news: Nissan has also announced that Japanese deliveries of the Z will be delayed until late summer. Deliveries had initially been scheduled to take place in June. Nissan is blaming the semiconductor crisis and disruptions to supply chains. There's no word on whether this will have an impact on U.S. orders, although we don't even have a timeline for those yet.
Luckiest Driver In The World Survives Being Crushed Between Two Trucks
A post shared by Cars Over Everything (@carsovereverything)
A driver of a Honda Fit was lucky to walk away from a wreck after his car was crushed between two trucks. We see the Honda stopped behind a cement mixer, with ample space left between it. Before long, a loaded truck comes barrelling up the rear, sandwiching the car. Despite crumbling like an empty can, the driver was left just enough space in the passenger cell, saving his life and allowing him to move around.
What Else Is Making The News
Amazon Reports Loss Due To Online Sales Decline And Fall In Rivian Shares
Leading online retailer Amazon has reported its first loss since 2015. The company recorded a three percent decline in the first three months of 2022 and a loss of $3.8 billion. Most of this was due to a dip in value from its stake in Rivian. Amazon's stake in Rivian lost $7.6 billion, as shares fell, with the company struggling to ramp up production, reports the BBC.
Elon Musk Tells Banks He Wants To Charge For Tweets 
In addition to committing to slashing pay for executives and board members, Elon Musk has proposed a plan to monetize tweets. The ideas were submitted to a group of banks that are helping the wealthiest man in the world finance his $44 billion acquisition of the social media network. Monetization ideas he brought up included charging third-party websites a fee to quote or embed a tweet from verified individuals or organizations, reports Reuters.