2023 Toyota Gr Corolla Morizo, 2023 Mercedes Glc, Audi Rs3 First Drive: Your Morning Brief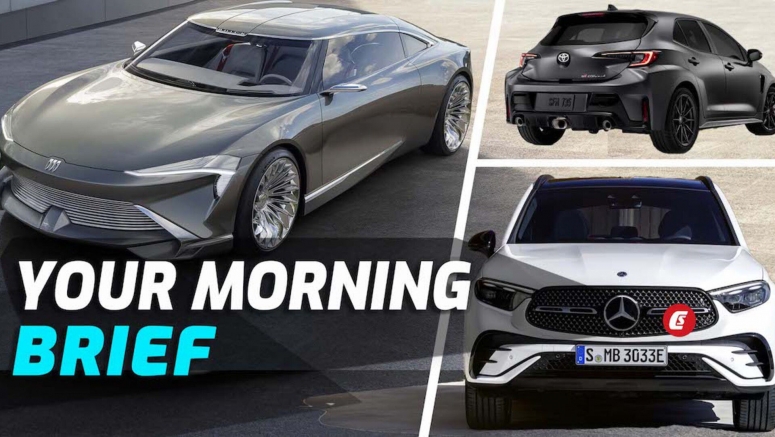 Good morning and welcome to our daily digest of automotive news from around the globe, starting with…
Ford's Mystery Teaser Is A Black Package For The Mustang That It Wants You To Name
Ford's recent cryptic social media posts make more sense with the announcement of a Black Accent package for the legendary pony car. We still don't know how it will look, and even Ford doesn't know what it will be called, because it's holding a competition allowing fans to name it. Musty McMustangface, anyone?
2023 Toyota GR Corolla MORIZO Edition Goes Hardcore, Drops Rear Seats And Gains More Torque
As if the world hasn't gone sufficiently nuts for the GR Corolla, Toyota has created an even more driver-focused version built to car-mad boss Akio Toyoda's dream spec. But getting hold of one might remain a dream: Toyota is building just 200 units for 2023, so you might have a better chance of bagging one of the 860 examples of the Solar Shift orange GR86 Special Edition.
New Wildcat EV Concept Is A Sexy Preview Of Buick's Future Electric Models
On a busy news day for Buick, the upscale GM brand pledged to go all-electric by the decade's end, showcased a new badge, and revealed an Electra-X coupe-crossover concept for China, plus a stunning Wildcat EV coupe concept that hints at how future models might look.
Porsche Goes Full Harlequin On The Taycan 4 Cross Turismo With Art Car For Sneakerheads
Looking a little like a Taycan that was stripped and left for dead by thieves and then rebuilt using parts scavenged from a dozen different cars, this Porsche art car is a joint project between the automaker and sneaker-loving designer, Sean Wotherspoon.
Elon Musk Tells Tesla Employees To Get Back To The Office Or Get Lost
Tesla's CEO famously slept in his Fremont car factory when the company was facing ruin, and now it looks like Elon Musk is expecting his employees to give at least a little of the same kind of commitment to their jobs, or find somewhere else to work.
New 2023 Mercedes-Benz GLC Takes Two Steps Forward And No Steps Back
Benz's new-generation rival to the Audi Q5 and BMW X3 plays it safe on the outside with a careful design update, but pulls out all the stops with the S-Class-inspired interior and generous (by premium German standards) equipment list.
Driven: The 2022 Audi RS3 Is Like Bruce Banner And The Hulk On Wheels
The RS3 sedan is a brilliant dual-character device that's fun on the track, composed on the street, and comes equipped with a five-cylinder turbo engine that's infinitely more characterful than rivals' inline fours.
2023 Toyota Corolla Cross Hybrid Arrives In America With 194 HP And 37 MPG Combined
Toyota's solution to rising gas prices for those of use not ready (or not able) to switch to an EV is the hybrid version of its Corolla Cross. The all-wheel-drive fuel sipper's 37 mpg combined rating is 7 mpg better than a regular AWD Corolla Cross can deliver.
Third Fire At Rivian's Illinois Plant In Seven Months Under Investigation
Demand for Rivian's R1T is on fire right now, and unfortunately, the company's Illinois plant seems equally keen to catch light. The Normal Fire Department recently responded to a third blaze in seven months when a defective battery pack ignited.
What Else Is Making The News
LG's Limited Edition Star Wars TV Boots Up with Darth Vader Breathing Sounds
Very excited to introduce our limited edition @starwars LG OLED evo TV! Unveiled by none other than the founder of Rancho Obi-Wan, @SteveSansweet! #LGJoinTheDarkSide
Sign up now to learn more: https://t.co/883YgenavX pic.twitter.com/oyydAM3cSU
— LG Electronics (@LGUS) May 26, 2022
Star Wars movies deserve a great screen, and now they've got one of their own thanks to LG's special C2 65-inch OLED unit. Limited to just 501 units in the U.S., the new set features a remote with an on-screen cursor like a light saber, a gallery with tons of posters, storyboards, and illustrations from the movie series, and it even wakes with the sound of Darth Vader's eery breathing noises.
Britain's Queen Elizabeth Celebrates 70 Years On The Throne (And 79 Driving Without A License)
Brits and royalists in former British colonies around the world who still haven't sent the English packing are celebrating the Platinum Jubilee of Queen Elizabeth II, who drove ambulances in WWII and is partial to a Range Rover despite never having been required to sit a driving test. Consider it a perk of the job.