2024 Lamborghini Aventador Replacement, Bmw Set On Subscriptions, And 2022 Suzuki Sx4 S - Cross Driven: Your Morning Brief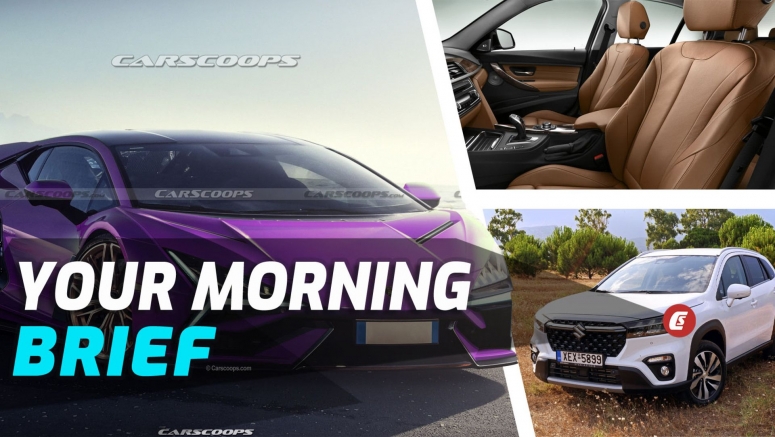 Good morning and welcome to our daily digest of automotive news from around the globe, starting with…
Tesla Sees Its Rivals' EV Goals And Sets One Of Its Own: 2 Million Cars Per Year By The End Of 2022
While many question just how long Tesla can hold on to its EV dominance, the relatively new automaker has set itself a large goal as it fends off the competition: a 2 million car production rate by the end of the year. Ford only envisages 2 million EVs per year by 2026, while VW predicts it'll churn out 1.5 million by 2025 and GM 1 million by that time. To achieve these targets, Tesla will add more gigafactories and use unique manufacturing processes.
BMW Thinks You'll Get Used To Subscriptions And It'll Reap The Profits
No matter where you stand on the idea of subscription services for cars, BMW seems to think that they'll catch on. But while other auto manufacturers may want drivers to subscribe to advanced tech services such as autonomous driving, the Bavarian company is banking on subscriptions for small things — like electric seat heating, automatic high beams, and adaptive cruise control. Is this the future of new cars?
2024 Lamborghini Supercar: Everything We Know About The Aventador's Wild Plug-In Hybrid V12 Successor
It's hard to believe that a decade has passed since the Aventador was launched, but it's nearly time for that particular raging bull to hang up its gloves and give way to a new model. So, what do we know about the 2024 Italian supercar? Well, from spy shots we know it'll look radical, which our speculative renderings depict. V12 lovers won't have to worry as the sonorous engine configuration will remain — but it will be given some extra shove thanks to a plug-in hybrid drivetrain. We expect an official debut either later this year or in early 2023, likely as a 2024MY for the North American market.
VW To Buy $4 Billion Worth Of Self-Driving Tech From Israel's Innoviz
Volkswagen is inking a deal with Isreal's Innoviz Technologies in a $4 billion announcement centered around self-driving tech. The partnership will be between VW's CARIAD technologies group and will include components such as laser-based lidar sensors the Volkswagen Group will use for its advanced driver assistance systems and automated vehicles from mid-decade.
Driven: Suzuki SX4 S-Cross Hybrid AllGrip Is Your No-Frills Family-Friendly SUV
The third generation of the Suzuki SX4 S-Cross has grown up, with aggressive styling replacing the wishy-washy looks of its predecessor. The interior gets a new dashboard area and infotainment system, but the rest of the insides carry over — including the plasticky door cards. Meanwhile, the 1.4-liter K14D BoosterJet engine feels more potent than the numbers suggest  — 127 hp (95 kW / 129 PS) and 235 Nm (173.3 lb-ft), and an additional 14 hp (10 kW / 14 PS) and 53 Nm (39 lb-ft) from the electric motor. But does the SX4 S-Cross feel like an all-new model or more of a heavy update? Find out in our full review.
These Are The 10 Top Most Stolen Vehicles In Each State
Pickup trucks appear to be the thieves' flavor of 2021, being the most popular type of vehicle to be stolen. Pickups were the most commonly pinched vehicle in 36 states, while in 27 of them, they occupied the top two spots. Taking the top spot in the US was the Chevrolet Silverado. Other models that were name-checked for being stolen the most include the Honda Accord, Jeep Cherokee/Grand Cherokee, Dodge Charger, and Subaru Forester.
What Else Is Making The News
Singapore F1 Circuit To Feature In Call Of Duty
We understand that, with our agreement, @infinityward have announced they designed a Grand Prix map as a part of the #MWII Beta. This is right, and the map will be playable for the 2022 Beta. We will be playing on Grand Prix in #MWII this year. pic.twitter.com/8kbaSEkChU
— Call of Duty (@CallofDuty) August 7, 2022
In the latest show of Formula 1's increasing popularity, Call of Duty is adding Singapore's Marina Bay street circuit to the list of playable locations in the next installment of the franchise, Modern Warfare 2. While the track is featured in the teaser video, there appears to be no F1 branding, hinting that a deal with Liberty Media may not have been inked.
Qantas Asks Its Execs To Step In As Baggage Handlers
Qantas asks executives to work as baggage handlers for three months https://t.co/TbH9OimxyN
— BBC News (UK) (@BBCNews) August 8, 2022
Facing a severe shortage of labor, Australian airline Qantas has asked senior staff to volunteer as baggage handlers at airports in Sydney and Melbourne reports the BBC. It comes after ground staff members were laid off during the pandemic, while now the company struggles to get back on its feet as borders open up.