A 2023 Honda Civic Type R Sport Wagon Would Be Epic, Too Bad It's Just A Render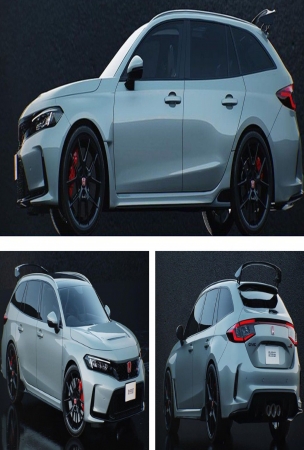 This story includes speculative illustrations for a fictional 2023 Honda Civic Type R Wagon created by independent designer sugardesign_1 who is neither related to nor endorsed by Honda.
The Honda Civic Type R is undoubtedly a dominant figure among FWD hot hatches, but what if it was offered in a more practical station wagon body style? While we know for certain that this kind of vehicle will never exist in real life, we can now see what it would look like thanks to a series of photorealistic renderings created by independent designer Sugarchow.
Unlike some of its competitors, the current 11th generation of the Honda Civic is only available in five-door hatchback and four-door sedan variants, with the performance-focused Type R exclusively offered in hatchback form. Recently, another digital artist named Theottle created a fictional Type R sedan, but Sugarchow is known for his affection for wagon and shooting brake conversions, so a family-friendly Type R makes perfect sense for his latest project.
Also Read: Honda's New Civic Type R Could Get A Plug-In Hybrid Powertrain In The Future
A post shared by Sugarchow (@sugardesign_1)
Since there is no Civic wagon to use as a base for the digital concept, the rear end of the Civic had to be completely redesigned. The front end with the aggressive bumper and the wider fenders, as well as most of the profile are carried over from the hatchback, with an identical wheelbase. The roofline however is now close to horizontal, and the third window grew larger for wagon looks.
At the back, the connected LED taillights and the bumper with the triple exhaust pipes are also shared with the hatchback, but the upper portion of the tailgate is different with a less inclined rear windshield. The rear wing which has become a signature element for the Type R had to be relocated to the roof, while shrinking in size. If you ask us, the model would look cleaner without it.
As we mentioned earlier, there is zero chance Honda will ever make a wagon version of their hot hatch. However, if such a vehicle existed in a parallel universe, in Europe and some other markets, it would compete with the likes of the VW Golf R Wagon, the Skoda Octavia RS Combi, and the Cupra Leon Sports Tourer 4Drive, since VW Group is the only company currently offering performance-focused versions of their mainstream compact wagons.
Photo
Gallery