Acura Begins Production Of 2023 Integra In Ohio, Deliveries To Commence In June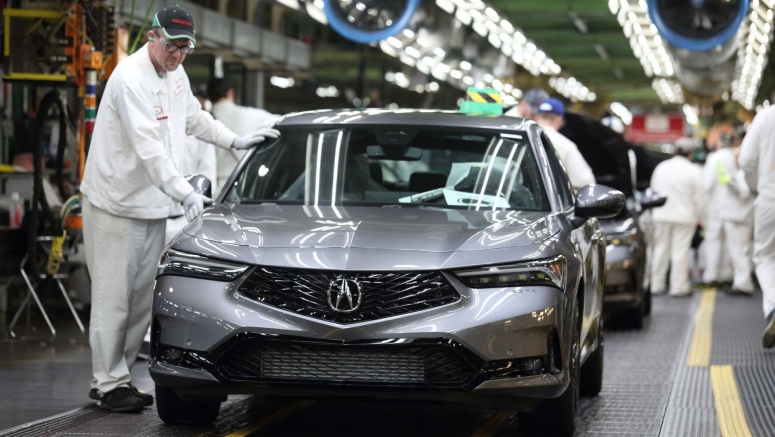 After much anticipation, the Acura Integra has finally taken its latest steps toward America's driveways as the first models have started rolling through the production line in Marysville, Ohio.
Being built in the U.S. for the first time in Integra history, the renascent model will join the TLX, RDX, MDX, and NSX Type S, which are all also made in Ohio.
"We are proud the Marysville Auto Plant has been chosen as the exclusive global production home for the 2023 Acura Integra that will play a key role in attracting the next generation of driving enthusiasts to the Acura brand," said Arjun Jayaraman, plant lead in Marysville. "And as a former owner of a 1990 Integra, I know the excitement this vehicle provides and the end result of our associates' efforts is an incredibly fun-to-drive next-generation Acura product."
Read Also: 2023 Acura Integra Debuts In Production Form With 200 HP
The Marysville Auto Plant will be the only plant producing the 2023 Integra, which introduces new production technologies and processes to the location. The liftback's tailgate, for instance, is different than those attached to other vehicles built at the facility, including the Honda CR-V. That required the Acura to introduce new processes in the weld, paint, and assembly areas.
Similarly, the Integra's flat roof posed new challenges for the plant's laser-brazing technology. The process, which creates a seamless appearance on body panels and makes them stronger, now requires associates to utilize dual-beam laser technology.
As previously revealed, the Integra will be powered by a 200 hp (149 kW/203 PS) turbocharged four-cylinder engine, which is built at Honda's Anna Engine Plant, also located in Ohio. It will be attached to either a CVT transmission or a six-speed manual.
Prices for the 2023 Acura Integra start at $30,800 and it is on track to start arriving at dealerships around the U.S. in early June.
Photo
Gallery