All - New 2021 Isuzu Mu - X Breaks Cover As The D - Max's Suv Variant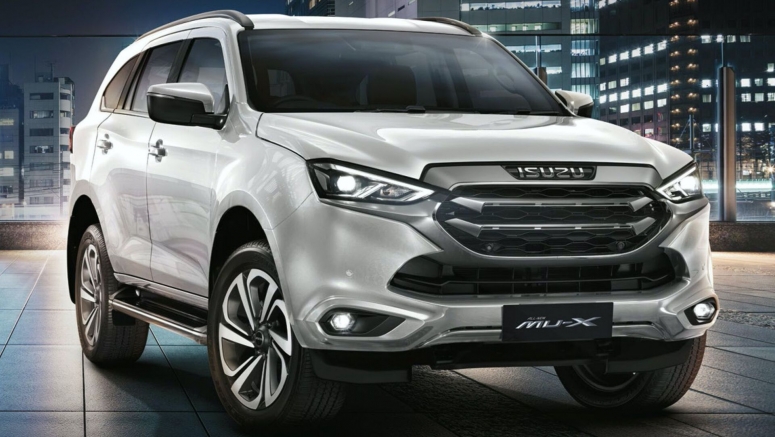 Isuzu has unveiled the all-new MU-X body-on-frame SUV in Thailand, seven years after the launch of the outgoing model.
Classified as a passenger pickup vehicle (PPV) in Thailand, the second-generation Isuzu MU-X will go on sale on November 9 in the southeast Asian country before arriving in other markets in the region and Australia. As with its predecessor, the 2021 Isuzu MU-X is based on the D-Max midsize pickup, more specifically the third-generation model launched last year.
As a result, power comes from the same 1.9-liter four-cylinder turbo diesel (RZ4E) delivering 150 PS (148 HP) at 3,500 rpm and 350 Nm (258 lb-ft) of torque at 1,800–2,600 rpm. This engine comes with a six-speed manual or six-speed auto, and can only be had with rear-wheel drive.
See Also: Isuzu Previews Futuristic FL IR Truck With Autonomous "Platooning" Function
Customers wanting an AWD MU-X must go for the 3.0-liter four-cylinder turbo diesel (4JJ3) rated at 190 PS (187 HP / 140 kW) at 3,600 rpm and 450 Nm (332 lb-ft) of torque at 1,600 – 2,600 rpm. The engine comes exclusively with the six-speed automatic transmission and all-wheel-drive.
On the styling front, Isuzu has tried to differentiate the MU-X more from the D-Max and it has done quite a good job with that. Actually, some could say it has more in common with the new Mazda BT-50 than the D-Max from a styling standpoint. Isuzu has also managed to make the new MU-X look more modern than its predecessor thanks to sleeker headlights and taillights, as well as a less utilitarian side profile.
Inside, the 2021 Isuzu MU-X looks almost identical to the D-Max, except top-spec models which appear more upscale thanks to the richer equipment. New available features include an electric parking brake, electric tailgate, ambient lighting, and more.
Isuzu also says the interior is roomier than the outgoing model, particularly for third-row passengers which now enjoy more legroom and reclining seats. Other improvements include a reduction of in-cabin noise as well as improvements in driving stability and riding comfort.
Photo
Gallery