Artisan Spirits Brings Toyota Supra, Lexus Lc 500, Acura Nsx, Tesla Model 3, And Others To Tokyo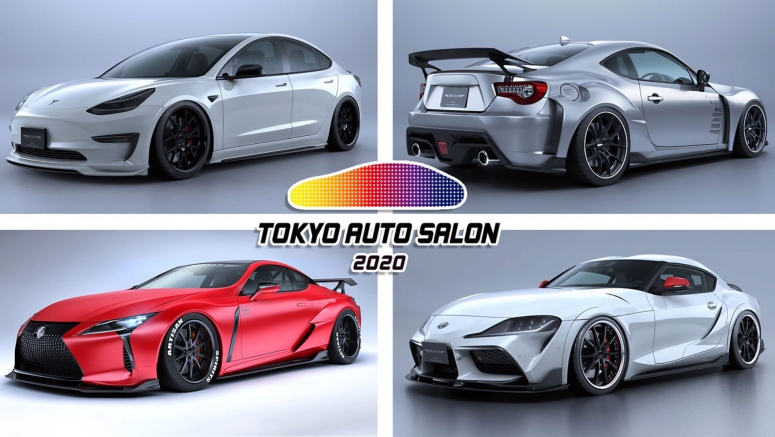 Artisan Spirits has taken to the Tokyo Auto Salon to unveil a plethora of upgrade packages for a wide array of vehicles.

Arguably the highlight of the tuning company's presence at the event is its modified Toyota Supra. The upgrade kit isn't as wild as some we've seen for the new-age Supra but still looks superb thanks to a new front splitter, extended side skirts, flared wheel arches, custom wheels, a rear diffuser, and a large ducktail spoiler at the rear.
Elsewhere, Artisan Spirits has presented its latest Toyota 86 bodykit in Tokyo, complete with custom front and rear bumpers, swollen arches, black wheels, side skirts, and a large fixed rear wing. Also on display is the tuner's tweaked Lexus RX300 that looks especially striking thanks to the new arches and aftermarket wheels.
Read More: Lexus LS500h By Artisan Spirits Is Worthy Of An 'F' Badge
Not the type of company to shy away from working on some high-end cars, Artisan Spirits is also displaying its upgrade packages for the Lexus LC 500 and Honda NSX. We've covered the former in the past and are big fans of its wild looks. The modified NSX presented is slightly less overt by comparison.
It's not just Japanese cars the tuner has expertise with. In Tokyo, it is also displaying its modified Tesla Model 3. Included in the kit is a new front splitter, lowered side skirts, aftermarket wheels, carbon fiber wing mirror caps, and a rear lip spoiler. Like the NSX package, it isn't too in-your-face and appears quite refined.
Other cars set to be showcased by the local tuner at the Tokyo Auto Salon include a modified Rolls-Royce Wraith and Toyota C-HR.
Photo
Gallery