Bentley's 850 Hp Pikes Peak Continental Gt3 Vs. A 600 Hp Honda Civic Type R Seems Like An Unfair Fight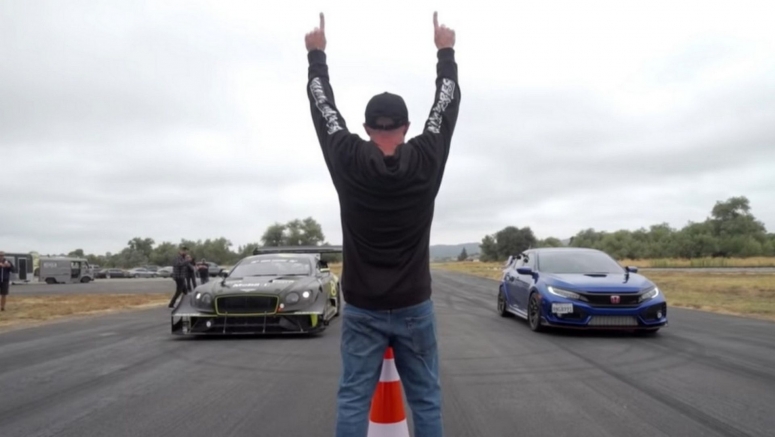 The challenges unique to the Pikes Peak International Hillclimb are many and this results in a lot of unique race cars. Take, for example, Bentley's Continental GT3 Pikes Peak racer.
Although it's based on a GT3 car that competes in sports car racing around the world, the one seen in this episode of Hoonigan's "This vs That" drag racing series has completely bespoke aero, optimized cooling, and the 4.0-liter twin-turbo V8 is running 850 hp (862 PS/633 kW).
Weighing in at 3,020 lbs (1,370 kg), it's also a featherweight when everything is considered. In fact, it weighs about 280 lbs (127 kg) less than a 2019 Honda Civic Type R modified to be the ultimate sleeper.
Read Also: This Is Bentley's Continental GT3 For The Pikes Peak – And It Looks Really Wild
Unfortunately, the unique demands of Pikes Peak mean that, although the Continental GT is extremely fast, it is by no means optimized for drag racing. Thus the 600 hp (600 PS/447 kW) Civic fares better than you'd expect against the 850 hp (862 PS/633 kW) Bentley that has tons of aero designed for high altitudes, a surprising inability to launch quickly, and the temperament of a true thoroughbred race car.
In the first race, a 1,500-foot (457-meter) drag from a standstill, the Civic Type R looks like it might be able to keep up for the first few feet. Once the Bentley takes off, though, it runs away from the Honda like a rocket.
Although there should be no controversy about the Bentley being the faster of the two cars, when the Civic Type R is given a headstart and the race is shrunk to 1,000 feet (305 meters), it manages to hang on for the win. That might also have to do with the fact that the Bentley's battery system was failing, something that prevents it from even putting up a fight in the final roll race.
All of which is an interesting lesson in how specialized race cars are these days and also how temperamental they remain.