Cadillac Celestiq Teaser, 2023 Toyota Sequoia Driven, And China's 2023 Ford Focus Facelift: Your Morning Brief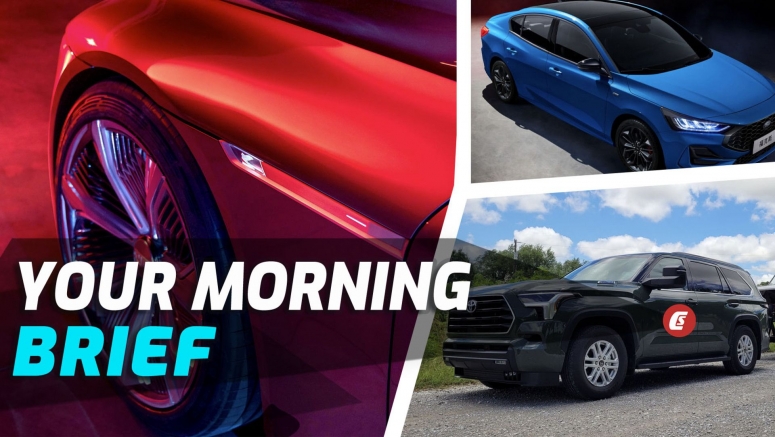 Good morning and welcome to our daily digest of automotive news from around the globe, starting with…
Goldman Sachs Says That Fuel Prices At The Pump Are Going To Get A Lot Worse
Gas prices have been on the rise through much of 2022, and economists at Goldman Sachs think the future looks even worse. The current national average at the pumps is $5 per gallon, but it's estimated to increase even further, by some 34 percent. That would leave 85- or 87-octane at $6.70, with premium at $7.43. Much of the crunch comes from a lack of refining capacity or the ability to turn crude oil into gasoline and diesel.
Cadillac Teases Flagship Celestiq Electric Sedan Coming Next Year
Cadillac has given us another look at its upcoming Celestiq electric sedan. The latest teaser showcase more details of the flagship, including the sharp-looking front quarter panel and lighting signatures.
Driven: The 2023 Toyota Sequoia Packs 437 Hybrid Ponies And Looks Good Doing It
Featuring a bold and modern exterior, the 2023 Toyota Sequoia hopes to inject some life into the model that failed to meet sales expectations. Based on the Tundra platform, the new Sequoia's cabin carries much over from the pickup and boasts Apple CarPlay and Android Auto compatibility. But while in many respects it should make Detroit take notice, it may not be the home run that Toyota had hoped for.
VW, Honda, Ford, And Others Back Move To Restore California's Emissions Autonomy
Five major car manufacturers have backed efforts from the Biden administration to reinstate California's ability to set its own emissions and fuel economy regulations. Ford, Volkswagen, Honda, BMW, and Volvo have all lent their support to a court filing to restore the state's authority that had been stripped under the presidency of Donald Trump.
2023 Ford Focus Facelift Unveiled With Sportier Looks In China
China gets a facelifted Ford Focus for 2023, with a more aggressive face, different LED light graphics, and a new bumper. The Chinese Focus is available with just one non-electrified 1.5-liter four-cylinder petrol engine, while two body styles are available; a hatchback and a sedan. The interior now features an 8-inch digital instrument cluster and a 12.3-inch infotainment touchscreen incorporating the SYNC + Zhi Mo infotainment that is developed by Ford and Baidu.
New Buick Envista Is The ICE Production Version Of The Electra-X Concept For China
Bearing more than a passing resemblance to the stylish Buick Electra-X concept that debuted earlier this month, we've now been given a revealing look at the Envista, courtesy of China's Ministry of Industry and Information Technology. The crossover coupe features China's Ministry of Industry and Information Technology, as opposed to the electric concept.
Castagna Milano Shows One-Off Peugeot 308 GT It Calls An Homage To Green
Coachbuilder Carrozzeria Castagna Milano has shown off its latest project, the one-off Peugeot 308 GT Castagna. Called a "homage to green" the car features a curious two-tone paint job, with glossy forest green and a much paler matte green. Inside, there's lots of leather in use, while the ceiling, A-pillars, and dash top are all upholstered in green suede that's highlighted by green, apparently carbon fiber, trim panels.
What Else Is Making The News
Apple Buys Lewis Hamilton's Formula 1 Movie
Apple In Home Stretch On Brad Pitt Formula One Racing Film With 'Top Gun: Maverick's Joseph Kosinski, Jerry Bruckheimer, Ehren Kruger https://t.co/6CDZAi4CKI
— Deadline Hollywood (@DEADLINE) January 4, 2022
Apple has bought the rights to a new Formula 1 movie that is being co-produced by none other than Lewis Hamilton. The film will feature Brad Pitt, and is also being produced by Jerry Bruckheimer and is directed by Top Gun: Maverick director Joseph Kosinski.
Silverstone Bosses To Sue Contractors 
Silverstone bosses are suing the contractors who resurfaced the track in 2018. Since the resurfacing, the circuit has been accused of being one of the most uncomfortable on the F1 calendar and even caused havoc for MotoGP riders. Aggregate Industries, the firm hired to lay the 2018 surface, is being sued for £8 million for the loss of track profits and the cost to resurface the track reports WTF1.