Can The Original Honda Nsx Stand Up To A Modern Civic Type R?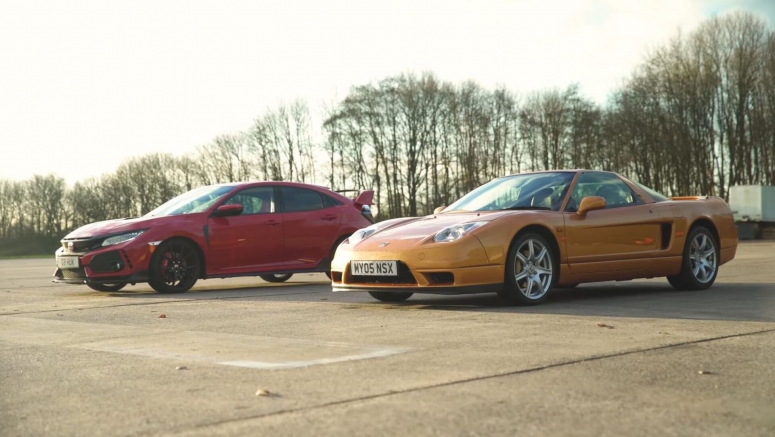 While drag racing videos between modern and classic cars may be among the most irrelevant when it comes to the winner, they're also among the most fascinating to watch, especially if you get the right match-up.
Take this European-spec 2017 Honda Civic Type R for example, with its 320 PS (316 HP) courtesy of a 2.0-liter turbocharged four-pot. It's quick, it's flamboyant and it's appealing to a new generation of hot hatchback fans.
According to Honda, you can max it out at 272 km/h (169 mph) and hit 100 km/h (62 mph) in 5.8 seconds. Not amazing, but certainly quicker than your everyday family saloon.
Read Also: Honda's Type R Badge Will Likely Remain Exclusive To The Civic
The first-gen NSX on the other hand, in this spec at least, has a 3.2-liter V-Tec unit with 294 PS (290 HP) and needs 5.7 seconds to hit 100 km/h (62 mph) – pretty much the same as the 2017 Civic Type R. Of course, the NSX carries around less weight, is rear-wheel driven instead of FWD, and you can rev it all the way up to 8,000 rpm.
We don't want to give away the results here, but we will tell you that two out of the three tests performed were very close, so don't expect this to be a predictable snooze fest. In fact, this is Honda at its finest, putting on a show for both Civic Type R fans as well as those who still appreciate the iconic NSX.
Now, if you're in the market for one of these and you live in the US, you'll need to pay around $30,000 for a used 2017-2018 Civic Type R. Meanwhile, most used first-gen Acura NSX models will run you at least $50,000.