Curfew Be Damned, 2020 Toyota Supra Plows A Rock In Puerto Rico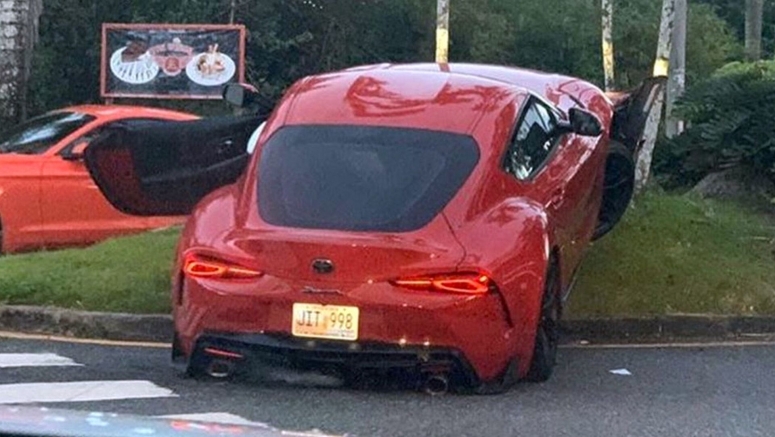 As with many other places around the world, the island of Puerto Rico is under a strict curfew these days over the coronavirus pandemic outbreak, but that didn't deter this 2020 Toyota Supra driver from barking up the wrong tree, or rather, rock.
These pictures, courtesy of a reader from Vistec R Imports, show a red 2020 Supra MKV (likely the Launch Edition judging by the red mirror caps and black alloy wheels) in a not-so flattering position over a median strip and on top of a rock, on route 156 at Caguas, Puerto Rico.
Watch: 2020 Toyota Supra Driver Floors It, Crashes Right Into A Tree
All we get are the following photos with no additional information on how and when exactly this incident happened, though one commentator suggested it might have taken place on Saturday. Whatever the reason, even if the cosmetic damages aren't that bad, there's no way the Supra avoided some serious and costly injuries on its undercarriage.
And contrary to what some jokesters might imply, the Ford Mustang pictured behind the Japanese coupe in one of the pictures doesn't (appear to) have had anything to do with the Supra crash.
More: Kid Crashes Dad's Shelby GT350R Trying To Show Off For His Friends, Yells "I'm Dead"
That said, if you do have more information on the accident that you'd like to share, please do tell us either in the comments or through email and we'll update this story.
What measures has Puerto Rico taken in regards to vehicle movement?
Since we're on the subject of Puerto Rico, beyond extending the strict two-week lockdown to April 12, Governor Wanda Vázquez also took additional measures on Friday to help curb coronavirus cases. Starting from Tuesday, March 31, nonessential workers will have to be home by 7 p.m., two hours earlier than the current curfew, while vehicles with license plates ending in even numbers can only be on the road Monday, Wednesday and Friday. Those vehicles with plates ending odd numbers will only be permitted to move about on Tuesday, Thursday and Saturday.
A post shared by Vistec R (@vistecrimports) on Mar 28, 2020 at 7:20pm PDT