Fca's Uconnect 5 Is Android - Based And Supports Up To A 12.3 - Inch Display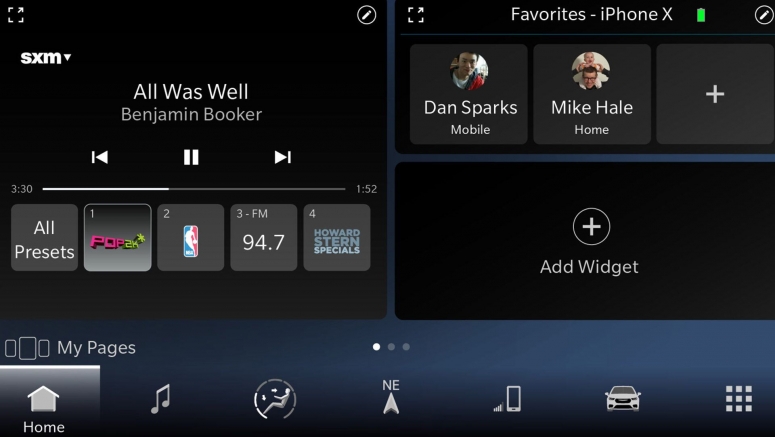 Fiat Chrysler Automobiles has introduced their new Uconnect 5 infotainment system which is based on Android.

Billed as the "most advanced Uconnect system ever," it's up to five times faster than its predecessor. The significant speed boost can be chalked up to a new Atlantis architecture and an upgraded 50K MIP chip. The system also features 6 GB of RAM and up to 64 GB of flash memory.
Besides promising "lightning quick" responses, the system will have up to a 12.3-inch display. That's significantly larger than the company's typical 8.4-inch display and even bigger than the 12-inch display offered in Ram pickups.
Also Read: GM Shows Off New Android-Based Infotainment System With Extensive Google Integration
FCA says the infotainment system has been designed to accommodate a variety of screens and aspect ratios, including those with standard, landscape and portrait orientations. More interestingly, the company noted additional outputs allow up to four screens per vehicle. FCA didn't say much about this, but noted multi-screen setups can display up to 15 million pixels and the displays can "work separately or in harmony, depending on user preference and purpose."
Besides being a digital powerhouse, Uconnect 5 promises a significantly improved user experience. According to the company, screen graphics will be specific to each brand and trim level. They'll also reflect the cabin of various vehicles as the system will have detailed backdrops that match interior colors and themes.
Android is famous for its customization and FCA is embracing this as they're promising new levels of personalization. In particular, the home screen will be customizable and allow users to add icons for commonly used features.
The system also has a "new, card-based format that allows display screens to be personalized, simplified and grouped by individual needs and interests while delivering a cleaner, fresher look." Users will even be able to add widgets for further customization.
The infotainment system supports up to five different user profiles and each will save an individual's preferences. This includes more than just the infotainment system as each profile can remember a driver's preferred temperature, seating position and mirror placement.
The system will also feature Alexa, Android Auto and Apple CarPlay integration. Android Auto and Apple CarPlay are currently available on more than 80% of FCA products in North America, but Uconnect 5 will bring that number up to 100%. The system also supports wireless connectivity so won't have to plug in your phone to access Android Auto or Apple CarPlay.
Furthermore, Uconnect 5 has an improved voice recognition system with a natural voice capability. This allows you to speak naturally and tell the system commands such "Find an available EV charging station near me."
Speaking of voice tech, models equipped with Uconnect 5 will feature a new wake word that correlates to the brand. In Pacifica minivans, users would say something like "Hey Chrysler, change the temperature to 70 degrees."
Other notable improvements include dual-phone connectivity and an all-new navigation system from TomTom. The latter features traffic information, EV and connected services as well as last mile navigation and maps that update automatically in the background. Rounding out the highlights are an improved Wi-Fi hotspot and over-the-air updates.
FCA didn't say which vehicle Uconnect 5 will debut in, but the company is working on a handful of new models including a three-row Jeep that will go into production later this year.
Photo
Gallery