Honda Breathes New Life Into S2000 With 20th Anniversary Prototype Showcasing Genuine Accessories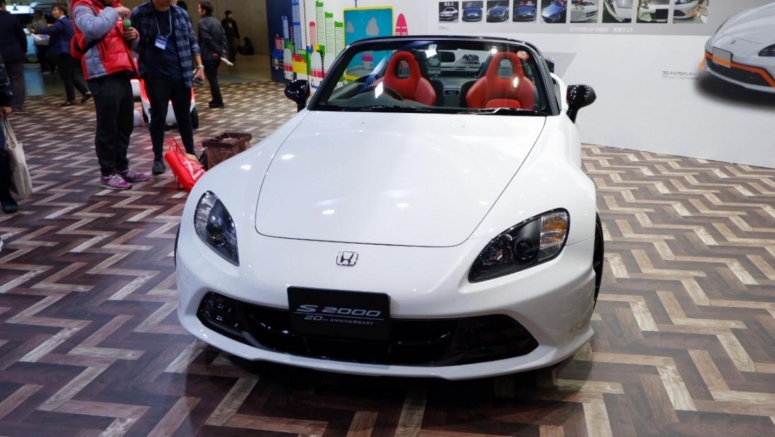 As promised, Honda has unveiled the S2000 20th Anniversary Prototype at the Tokyo Auto Salon.
Two decades after the iconic roadster entered production and one decade after being discontinued, the Honda S2000 hits the headlines once again as the carmaker releases new genuine accessories for the high-revving roadster.
Honda will actually build most of the new parts showcased on the S2000 20th Anniversary Prototype and that's fantastic news for those owners who want to breathe new life into their beloved open-top sports cars.
Watch: Honda Civic Type R Vs S2000 – Which One's Faster On Track?
The headline act is obviously the new front bumper with a larger and more aggressive aperture than the stock part. The new aero bumper also lengthens the Honda S2000's nose, a fact that's easy to notice in the added material at the base of the headlights.
The new bumper is not just for show as Honda claims the bumps on the sides improve the aerodynamic performance by reducing airflow entrapment into the wheel wells. The aero bumper is also said to contribute to superior straight-line stability than the standard item.
The list of accessories for the exterior also includes strakes attached in front of the rear wheels and a black ducktail spoiler. Interestingly, both accessories are reprints of the Modulo parts available when the S2000 was in production. The show car also features Yokohama Advan Racing alloys painted black with a silver contour.
What about the interior?
Inside, the S2000 20th Anniversary Prototype features new seat covers in red, a new lid for the audio system, an air deflector, and red floor mats. All feature 'S2000 20th Anniversary' inscriptions but it's unclear if Honda Access will offer all of them to the public.
We can also spot a Panasonic touchscreen display above the center tunnel (and unaligned with it), but Honda doesn't reveal anything about it.
Furthermore, the automaker does mention a modern suspension upgrade and cover for the soft top. What it doesn't say is if all these parts will be exclusively available in Japan or if they will somehow make their way to other markets as well, as there's a strong following for the S2000 worldwide.
However, full details about these, as well as the full list of available accessories, will be released on February 20 – so stay tuned.
Photo
Gallery