Honda Fit Off - Roader Goes For A Scary Trip Through A California Mine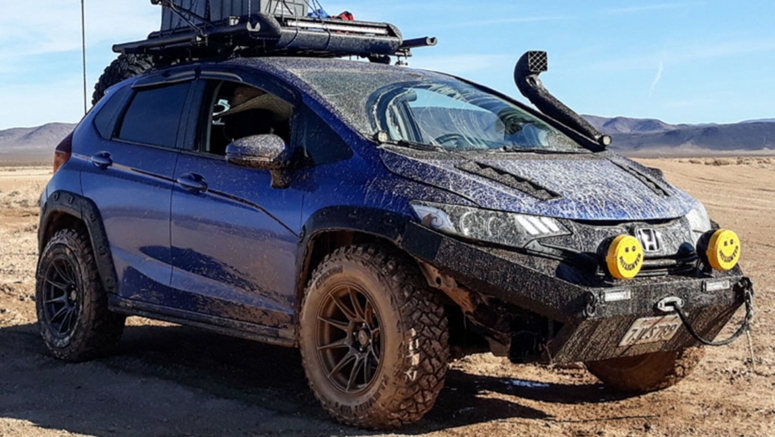 The Honda Fit is not the kind of vehicle you would ordinarily take off-road, but the example featured in this video is quite a bit different than those usually seen on city streets.
This blue Fit is owned by Whatzs Production and is a 2015 model. Clearly eager to add to the car's versatility, the YouTuber has outfitted it with heaps of off-road parts that make it far better suited to exploring the wilderness than any regular Fit.
The biggest change are a set of 30-inch all-terrain tires and new wheels. There is also a snorkel from a Toyota Land Cruiser, flared fenders from a Jeep Cherokee, a new front fascia, a spare tire mount, tow hitch, and two jerry cans. As far as we can tell, the car is still front wheel drive, but along relatively flat and dry dirt tracks, front-wheel drive can get the job done most of the time.
Read Also: New Honda Fit Already Gets A Ton Of Genuine Accessories In Japan
Eager to explore in his modified Honda, the YouTuber headed out to a place known as 'Reward Mine', located in between Kings Canyon National Park and Death Valley National Park in California. Getting to the mine wasn't too much of a struggle for the little Honda, although at one stage, its front winch was needed to get it over a bit of a slope.
Then comes the real highlight of this off-road adventure: the mine itself. The mine was functional until the 1970s but has since been abandoned and if you're brave and have a small enough vehicle, you can drive directly into it. Doing so isn't for the faint of heart, however, as there are signs of collapse in many areas.