Honda Suv E:concept Is An Enticing Preview Of The Brand's First Ev For China (updated)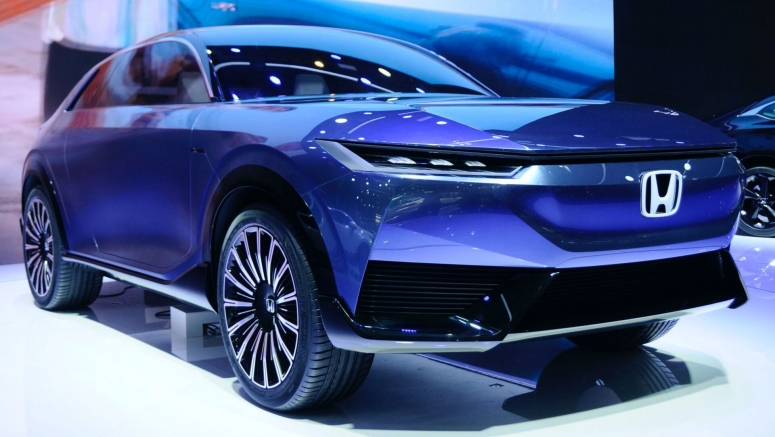 Following this past weekend's announcement, Honda showed its new battery-powered concept crossover in the flesh at the Beijing Auto Show. We've included live photos on the gallery below. [Updated 9/30/2020]
The 2020 Beijing Auto Show hosted the world premiere of the Honda SUV e:concept, a design study which offers a loose preview of the brand's first EV to be introduced in China.
Honda says the upcoming mass-production EV "will offer a value based on mobility experiences that remain fresh and fun for customers." The automaker did not talk specifics, but said the new model will be equipped with omnidirectional ADAS as well as the next-generation Honda Sensing safety suite and Honda Connect infotainment system.
The Honda Sensing pack will feature improved recognition, predication and decision-making performance thanks to a wider front camera angle and the adoption of a 360-degree radar, which will enable the system to detect vehicle peripheral environment more accurately. As for the Honda Connect, will get an AI assistant interface, smartphone link and wireless updates made possible by advanced connectivity.
See Also: Lynk & Co Zero Concept Unveiled, Previews Upcoming EV With 435 Mile Range
Unfortunately, Honda did not release interior photos of the SUV e:concept, showing only three exterior shots. The study looks like a significant departure from Honda's current lineup of SUVs, featuring an athletic body with a long hood, two massive doors that appear to have frameless windows, a sloping roofline and a rakish rear screen. Mind you, unlike the three-door concept, the production model is likely to feature a more practical five-door body.
The horizontal LED headlights and taillights have a similar shape and layout to one another, with each pair connected by an illuminated strip and featuring an illuminated Honda logo below. The aggressively-cut front bumper is also echoed at the back by a similarly sculpted rear fascia.
Other styling cues worth noting include the concave surface at the lower half of the doors, the plastic cladding around the wheel arches and on the side sills, and the multi-spoke alloys. The ride height seems generous, though Honda did not offer any details.
Besides the SUV e:concept, Honda's Beijing Auto Show booth also includes the CR-V PHEV, the brand's first vehicle in China equipped with a plug-in hybrid system. Scheduled to go on sale in January 2021, it features the Sport Hybrid i-MMD two-motor hybrid system "with further improved efficiency of the battery and converter system."
Photo
Gallery