Is The Volvo V60 Cross Country Worth $5k - 10k More Than A Subaru Outback Xt?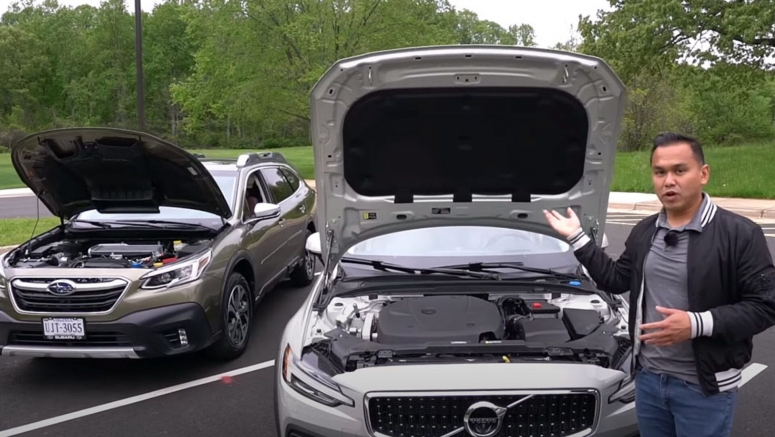 The Subaru Outback continues to sell well throughout the United States, prompting a plethora of other automakers to launch similar high-riding wagons in recent years. One of the most recent is the 2020 Volvo V60 Cross Country and put to the test alongside a 2020 Outback XT by Redline Reviews.

Comparing the V60 Cross Country with the Outback may initially seem a little odd. After all, the 2020 Outback starts at $26,645 for the naturally aspirated model and $34,895 for the 'XT' turbocharged version (plus $1,010 destination), while the V60 Cross Country is currently available from $45,100 (plus $995 destination). However, the reviewer was eager to see if it's better to purchase a vehicle from a mainstream brand like Subaru or instead, a luxury brand like Volvo.
Read Also: Volvo Prices 2020 Volvo V60 Cross Country in The U.S.
Powering the Subaru Outback XT, which is priced from $34,895 for the Onyx Edition, $37,745 for the Limited and $39,695 for the top-end Touring (all MSRPs excluding a $1,010 delivery fee),  is a turbocharged 2.4-liter flat-four engine also used in the Legacy and Ascent. This powertrain offers up 260 hp and 277 lb-ft (375 Nm) of torque which is funneled through Subaru's Symmetrical AWD system via a CVT. Lesser Outback variants are sold with a naturally-aspirated 2.5-liter flat-four with 182 hp.
As for the Volvo V60 Cross Country, it is offered with a single engine in the form of the brand's T5 2.0-liter, turbocharged four-cylinder rated at 250 hp and 258 lb-ft (350 Nm) of torque. Like the Outback, it also has all-wheel drive but rather than a CVT, uses a traditional 8-speed automatic.
The review below is limited to on-road testing and doesn't see either of the two driven along more uneven and difficult terrain. Nevertheless, it is quite comprehensive and the conclusion may surprise you.