Jacked - Up, 600 Hp Nissan Gt - R Makes For Quite A Nice Off - Roader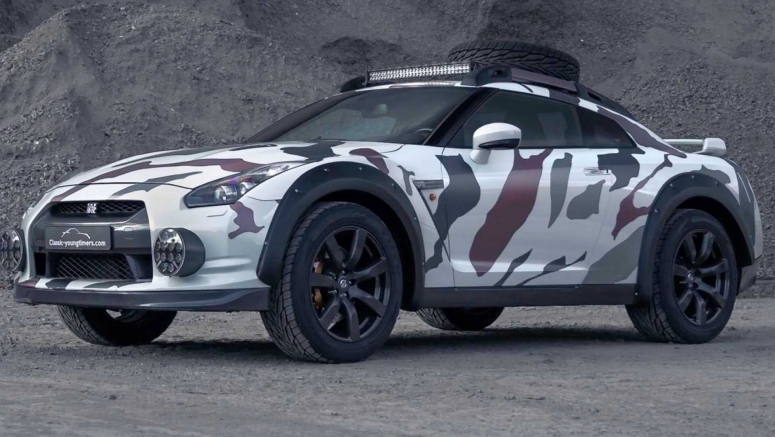 Nissan makes some pretty formidable off-roaders, namely the Patrol, Armada, and Navara. As it turns out, the GT-R can also be transformed into an off-road-focused animal.
This particular GT-R comes from Classic Youngtimers Consultancy and is known as 'Godzilla 2.0'. It benefits from a host of modifications aimed at making it all the more extreme and follows on from an off-road Lamborghini Gallardo which the same company made last year.
Read Also: Forget The Bentayga, This Is The Off-Road Bentley We Really Want
Kicking off the modifications made to the GT-R is a lift kit that jacks up the ride height by 4.72 inches (12 cm). Youngtimers then bolted on a set of black plastic fender flares, similar to what you'll find on many current SUVs and pickup trucks. The standard GT-R wheels have been maintained but they are now wrapped in new rubber that is slightly better suited to driving off the beaten path than the track-focused tires of most GT-Rs.
At the front, the company has fitted a set of large LED spotlights that probably light up the road ahead just as well as a proper rally car. Elsewhere, the company has fitted a set of roof rails and a custom roof rack that includes a large LED light bar and carries a spare wheel. Rounding out the modifications is a camouflage-style wrap.
The GT-R's 3.8-liter twin-turbo V6 has been tuned to put out 600 hp. The car, which has 28,893 miles (46,500 km) on the clock, is currently up for sale with an asking price of €95,000 ($107,000).

Photo
Gallery