Japan's New Subaru Wrx & Levorg Sti, And Gmc Hummer Ev's First Deliveries: Your Morning Brief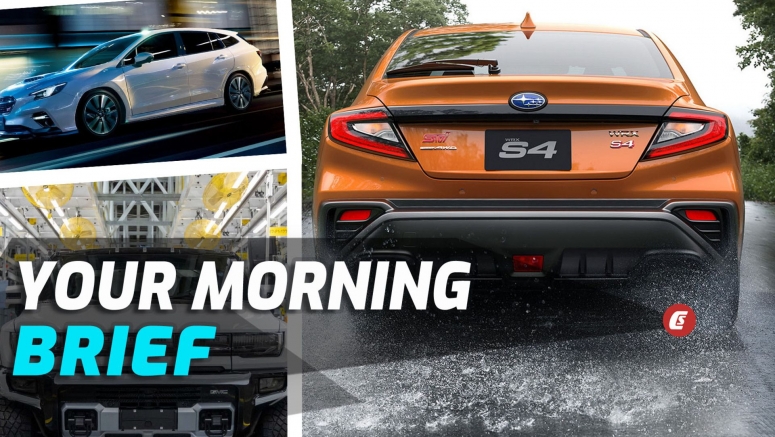 Good morning and welcome to our daily digest of automotive news from around the globe, starting with…
Let's Go Around The Table And Share What We're Thankful For
We hope that this year's Thanksgiving has been better than the last. So, as the world slowly recovers from uncertainty and grief, we car enthusiasts too must be thankful that the automotive world and everything around it are making its comeback. 2021 has undoubtedly been eventful, with exciting unveilings like the Nissan Z, Corvette Z06, and the new 911 GT3, to name a few. Let's not forget Motorsport; with crowds returning and the intense title battle currently underway in F1, or the introduction of EVs to rallying, competition has definitely kicked off. What are you thankful for this year?
Subaru Unveils WRX S4 In Japan With STI Sport R Flagship Trim Level
Subaru finally revealed the WRX S4 in Japan, and it comes available in a few different trim levels, including the range-topping STi Sport R EX. Visually, the Japanese-spec WRX S4 is almost identical to the Subaru WRX introduced for the U.S market. This includes the exterior cladding, and 'Ultra Suede' finished Recaro bucket seats along with carbon-look and red-stitched leather accents on the STI. STI buyers will also be treated to Subaru's Starlink infotainment via an 11.6-inch touchscreen as well as a 12.3-inch digital instrument cluster (offered only for the Japanese market). Subaru has already begun accepting orders for the S4, starting at 4,004,000 yen ($34,710) for the base GT-H, moving all the way up to 4,774,000 yen ($41,385) for the flagship STI Sport R EX. Fans of fast wagons can also avail themselves of the Levorg STI Sport R, which features the WRX's engine.
GMC Hummer EV Has 329 Miles Of Range, Deliveries To Start Next Month
General Motors confirmed that delivery of the flagship Edition 1 Hummer EV will take place in December 2021. The rebirth of the Hummer nameplate features three motors and a 200kWh battery, giving it the ability to harness 1000hp. But the Edition 1 isn't just about power. GMC has fitted the vehicle with a four-wheel steering system with a 'Crab Walk' feature that allows it to move diagonally while also reducing its turning radius to that of a Chevrolet Sonic.
Tesla Set To Spend Over $1 Billion On Texas Factory
In the summer of 2020, Tesla officially set about building its newest factory in Austin, Texas. The company hopes to finalize the construction of five facilities within the factory — with a combined area of 4.3 million square feet — by the end of this year and will spend a staggering $1.06 billion to do so. The EV manufacturer told Reuters that they are expecting a $65 million local tax rebate for the factory that will employ over 10,000 people and that the facility will have the ability to churn out as much as 500,000 Model Ys each year.
Scammers Hack Mazda USA's Official Instagram Page On Thanksgiving
Mazda USA's Instagram account fell victim to hackers on Thanksgiving, with an unusual post by the automaker account promoting Emma Ramirez, a full-time forex-trader and traveler. The post also said that this particular individual is an investor supported by Mazda, and urged followers to get in touch. What's surprising is that the image stayed on for several hours before the administrator realized that it wasn't meant to be there, but we can't be too harsh as it was a holiday in the US after all. Mazda has since apologized for the inconvenience, and the comment section suggests that most followers just found it comical.
2022 Chevrolet Silverado And GMC Sierra Offered In Base Guise With Standard Bed
Fans of bare-bone pickups rejoice: the 2022 Chevrolet Silverado and GMC Sierra models will be offered as a regular cab, two-door models with a standard length bed. The most basic spec in the range, the regular cab, two-door, standard bed, will only be available in entry-level Silverado WT trim. Similarly, the regular cab variant of the Sierra will only be available with the truck's base Pro trim level. No pricing details have been announced, but don't expect it to break the bank.
What Else Is Making The News
Amazon Hit By Protests On Black Friday
Amazon workers in at least 20 countries, including the UK, US, and Europe, are going on strike today, Black Friday. Unsurprisingly, Black Friday is the busiest day of the year for Amazon, but the "Make Amazon Pay" coalition of unions and environmental groups want the shopping giant to change its practices and improve pay for workers.
Uber Exits Belgium
Uber is stopping its rideshare services in Belgium following a court hearing that extends a ban on UberPop. Uber's country chief criticized the decision, saying it was based on outdated regulations written in a time before smartphones, reports TechCrunch.