Lancia Delta Ev To Rallycross, Mazda Miata Confirmed For 2022 Refresh, And Retro Wey: Your Morning Brief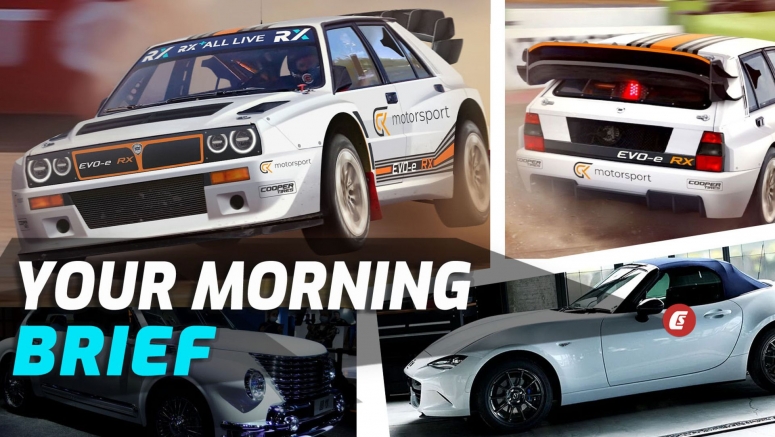 Good morning and welcome to our daily digest of automotive news from around the globe, starting with…
U.S. Taps Into Strategic Petroleum Reserve To Help Lower Oil Prices
President Biden announced that the U.S. government has decided to utilize their Strategic Petroleum Reserve (SPR) in an effort to stabilize rising oil prices. The president said that it is working with several countries, including India, China, the UK, Japan, and the Republic of Korea, to release 50 million barrels of crude oil from its reserve. The national average per gallon price recently increased to $3.409 in comparison to $2.11 a year ago due to limited production oil manufacturing, and a senior U.S administration official told reporters that "additional action" will be taken if necessary.
671-HP Electric Lancia Delta Ready To Rip In Rallycross
Rallycross has embraced EVs for 2022. All examples on the 14-car grid will utilize the same powertrain courtesy of Kreisel, producing 671hp. However, body style and livery have been left to the imagination of the teams competing, and French-born GCK motorsport has decided to bring back the Lancia Delta Integrale. The rallycross EV is expected to reach 62mph (100 km/h) from a standstill in less than two seconds, but it will need to do more than that to prove EVs are capable of more than just straight-line speed.
Refreshed 2022 Mazda MX-5 Miata Confirmed, North American Reveal In Coming Weeks
Mazda will be introducing an updated version of the Mazda Miata / MX-5 / Roadster for 2022 within the coming weeks. There were fears that the car might have been dropped, but a Mazda USA spokesperson told CarScoops that there is no plan to discontinue the ND MX-5. However, Mazda's long-term goal to electrify their product line by 2030 could mean that this is the last Miata to sport an unassisted ICE.
GreatWall's WEY Yuanmeng Is A Retro Americana Faced Version Of The Ora Ballet Cat Beetle Clone
A few months ago, Ora released the Ballet Cat, a car that looked to be heavily inspired by the VW Beetle. Now, Great Wall's WEY brand has decided to introduce their own rebadged version of the car dubbed the Yuanmeng at the 2021 Guangzhou Auto Show, and it's a retro-styled example that looks like it came out of an early 30s movie. While the vehicle's exterior design paid homage to the classics, its interior is very much up to date. Local media suggests that the Yuanmeng will most likely inherit a hybrid powertrain, but official specs are yet to be confirmed.
2022 Nissan Maxima Priced From $37,240, Tops Out At $42,550
Nissan announced pricing details for the 2022 Maxima in the U.S. market, and it starts at $37,240 (minus the $975 destination charge). The entry-level Maxima SV will offer 18-inch aluminum alloys and an 8-speaker audio system, to name a few, but the range-topping Maxima Platform (although not as sporty as the SR) will give you a plethora of extra comfort options for $42,550. However, powertrains will remain the same across all platforms in the form of a 3.5L V6 coupled with the performance-based Xtronic transmission delivering 300hp to the front wheels.
Apparent Jilted Ex Spray Paints "Mike Is A Cheater" On Wrong Car
Heartbreak takes many forms and leads to equally different outcomes. However, one victim caught in the crossfire comes in the form of a Mitsubishi Outlander Sport that has been vandalized in the name of love. The Outlander had been branded with the words "Mike is a cheater" and had its side mirrors destroyed. What makes the story even more tragic is that the vandal reportedly got her lover's car mixed up and ended up vandalizing a crossover belonging to a completely innocent woman.
What Else Is Making The News
NASA Launches Mission To Blast Asteroids 
NASA has launched its Dart mission to study how to stop large asteroids from colliding with earth. It marks the first attempt to deflect asteroids with a view to saving the planet from continent-wide destruction, reports the BBC.
Tesla Fans Give One Star Reviews To JPMorgan On Yelp
Unhappy over the lawsuit by JPMorgan, fans of Tesla and Elon Musk have flooded the bank's yelp page with one-star reviews. According to Business Insider, the barrage of bad ratings was inspired by Musk's comments to the Wall Street Journal that day about the lawsuit."If JPMorgan doesn't withdraw their lawsuit, I will give them a one-star review on Yelp. This is my final warning."