Lexus Lc500 Looks Even Better With These 'carbon Fiber' Wheels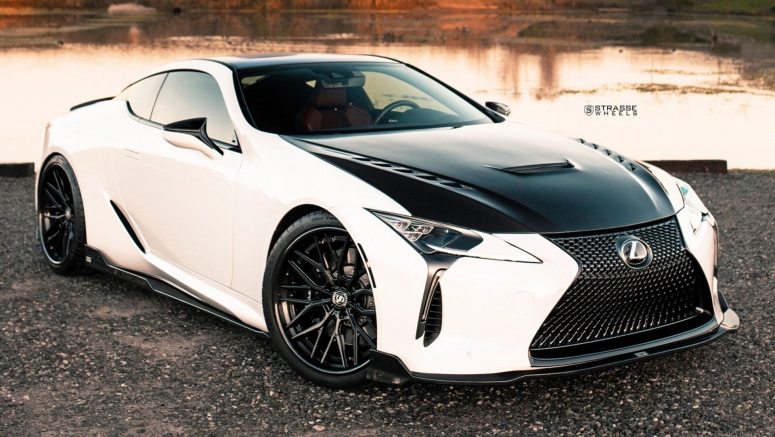 The Lexus LC500 is one of the most beautiful cars on the market and this particular example, fitted with a set of custom Strasse wheels, is particularly striking.
The owner of this LC500 clearly wasn't afraid to tweak the styling of the luxurious grand tourer and first had it fitted with an aftermarket carbon fiber hood to give it a more aggressive look. Complementing this new hood is a carbon fiber splitter as well as new side skirts, a lip spoiler on the trunklid, and a unique diffuser.
Complementing these changes are a set of SV10M Deep Concave FS wheels that measure 22×9 at the front and 22×11 at the rear. These wheels have a carbon fiber finish but aren't actually made from carbon fiber. Nevertheless, their color perfectly matches the other alterations made to the car.
Read More: 2021 Lexus LC Coupe Drops Weight And Gets A Sportier Suspension Setup
Lexus updated the LC Coupe for the 2021 model year in April 2020, not long after the Convertible variant was unveiled. Very few changes were made to the car's exterior and the only real upgrades made to the cabin was the fitment of a new 10.3-inch infotainment system that supports Android Auto, as well as the availability of new upholstery.
The Japanese car manufacturer did make some more significant changes under the skin, however, including fitting new suspension stabilizers, various aluminum components, lighter rear wheels, and high-strength coil springs.
The Lexus LC 500 is powered by a 5.0-liter naturally aspirated V8 with 471 hp and 398 lb-ft (539 Nm) of torque. The car is also sold in LC 500h form which uses a 3.5-liter V6, two electric motors, a four-speed automatic transmission, and a lithium-ion battery.
Photo
Gallery