Mazda's Entire Lineup Dresses In Festive Attire For 100th Anniversary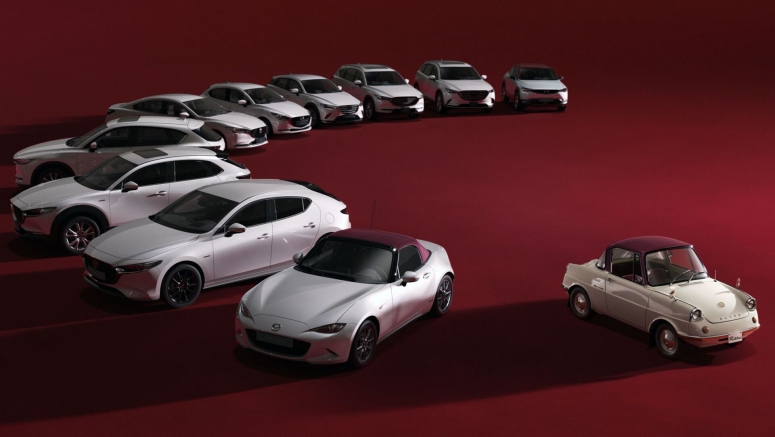 To mark its centenary, Mazda has unveiled a range of special edition models featuring a two-tone exterior/interior look inspired by the brand's first car, the R360.
Available for pretty much its entire lineup, the 100 Anniversary models feature white paint and a burgundy interior, plus unique badges. All 100th Anniversary Mazdas combine a Snowflake White Pearlescent paint with burgundy leather seats and carpeting.
Additionally, the special edition cars feature several bespoke touches that add to their exclusivity. Those include a unique 100th Anniversary badge on the burgundy floor mats, key fob and embossed into the headrests.
See Also: France's Limited-Run Mazda MX-5 Eunos Edition Brings Back Memories
The same badge is featured on the outside on the wheel centers and the front fenders. On top of all these upgrades, the 100th Anniversary Mazda MX-5 Convertible also gains a Dark Cherry fabric roof.
Originally scheduled to debut at the 2020 Geneva Motor Show, Mazda's 100th Anniversary lineup has today been announced in Japan. Pre-order is now open for the special edition models, which include Mazda2, Mazda3, Mazda CX-3, Mazda CX-30, Mazda CX-5, Mazda CX-8, Mazda6, plus RF and Convertible MX-5. These models will be offered in Japan through to the end of March 2021.
The UK will get 100th Anniversary Mazda MX-5 Convertible, Mazda CX-30 and Mazda3 models later this year, in a run of 100 examples each. Similar versions of the Mazda6 and CX-5 arriving at a later date. UK pricing and specification will be announced later in the year.
The 100th Anniversary models take inspiration from the Mazda R360, the company's first production car launched in 1960. More specifically, the special edition vehicles emulate the white body/red roof two-tone design of R360 high-grade versions.
Photo
Gallery