Million - Mile Frontier To Live Out Its Days At Nissan's Tennessee Factory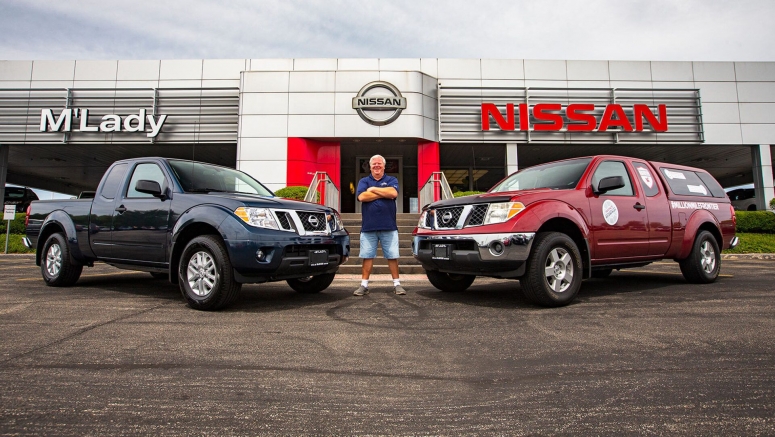 A 2007 Nissan Frontier with over 1 million miles (1.609 million km) under its belt has been officially retired.
Back in February, we wrote about Chicago delivery driver Brian Murphy's Frontier when the odometer hit 999,999 miles after 13 years of ownership. In a new press release, Nissan has confirmed the 'Million Mile Frontier' will be retired and displayed at the Nissan Smyrna Vehicle Assembly Plant in Smyrna, Tennessee – the same location where it was built.
Read More: 2020 Nissan Frontier Keeps Last Year's Looks, Gets Next Year's 3.8L V6 And 9sp Auto
The original clutch on Murphy's Frontier lasted him 801,000 miles (1.28 million km), while the timing chain only needed to be replaced at 700,000 miles (1.12 million km). Additionally, the original radiator and alternator lasted about 450,000 miles (724,000 km) each, and the driver's seat lasted 500,000 miles (804,000 km) before it had to be replaced.
Earlier this week, Nissan presented Murphy with a 2020 Frontier, complete with the all-new 3.8-liter direct-injection V6 engine and a nine-speed automatic transmission.
"I'll miss this truck, no doubt, but I'm glad it's going back 'home' to Smyrna," Murphy said. "At the same time, I'm ready for my next chapter, and I can't wait to experience my new Frontier and its all-new powertrain. I know that this 2020 Frontier will bring the same durability that I've relied on for over 13 years."
"Brian Murphy is the quintessential Frontier owner, so it's fitting that he will be driving one of the first 2020 Frontier pickups in America," regional vice president for the Nissan Midwest Region, Craig Keeys, commented. "Thank you, Brian, for illustrating the durability and reliability of the Frontier for more than 13 years and one million miles."
Photo
Gallery