New Rs 3, Toyota Has A New Aqua, F1 Drama At Silverstone, And An All - New V12 From Lamborghini: Your Morning Brief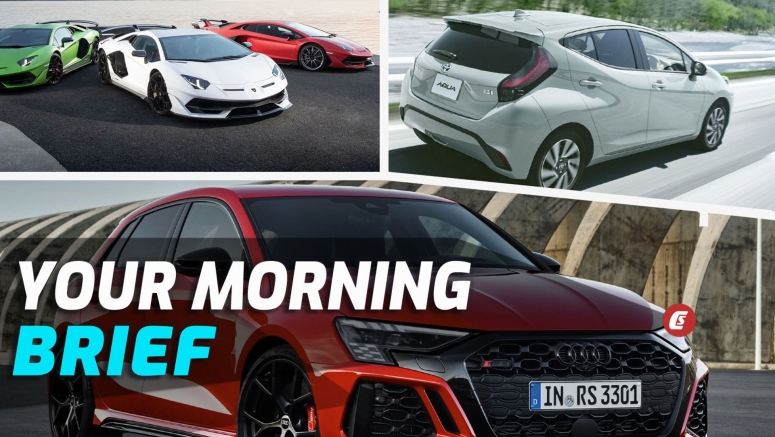 Good morning and welcome to our weekly digest of automotive news from around the globe, starting with…
The Car Market Is So Hot, Vehicles Are Already Sold When They Hit The Lot
Blame the chip makers, the manufacturers, or the pandemic — it doesn't matter what way you look at it, the new car market is facing a crisis of demand and supply. It has led to the strange phenomena of cars being sold even before they've entered a dealership lot, with others — in some cases — taking just a few hours to be sold.
2022 Audi RS 3 Sportback And Sedan Are The New Compact Performance Kings
The new Audi RS 3 has been revealed, and it'll be available in both hatchback and sedan body styles for most of the world, except for North America, because for whatever reasons the five-door misses the cut. To make up for it the US gets slightly more power. The five-cylinder turbo unit under the hood produces 394 hp (294 kW / 400 PS) in Europe and up to 401 hp (299 kW / 407 PS) in the US, both offering 500 Nm (368 lb-ft) torque.
Driven: 2021 Buick Envision Avenir Fails To Shine In A Crowded Segment
Sebastien got behind the wheel of Buick's Envision Avenir to see if the brand is as changed as we hope it is. Unfortunately, despite it being a very comfortable option in the market, the overall package is just a little underwhelming in light of the premium competition.
QOTD: Which Present-Day Car Will Be Reborn 50 Years From Now?
Nostalgia does a strange number on car fans, convincing some of us to part ways with large wads of cash in order to rediscover the cars of our youth. Of course, we've all moved on, which is why the reborn and retro-mod industry is thriving. So we ask, what modern-day cars will receive the same treatment years down the road?
Toyota Launches Second-Gen Aqua / Prius C In Japan With Optional AWD, Standard Emergency Power Supply
Nine years after the first generation was introduced the Aqua (aka Prius C) has been retooled and revamped. It now rides on the same platform as the Europen Yaris. It also comes with a better battery that will allow it to act as an EV for longer, as well as being more efficient.
We Drove A BMW M8 Gran Coupe For Seven Months, Here's What We Learned
Chris was lucky enough to pilot BMW's flagship, erm, coupe/sedan (?) four-door stylish GT — for eight months. He concludes that it's cooler than the M5, looked best from the rear quarters, and had bucket loads of power on tap. However, if we'd have owned it as opposed to having it on loan depreciation would have been a killer — especially over lockdown.
Lamborghini CEO Says Aventador Successor Will Have An All-New V12 Engine

While it's not quite the ICE's savior, the last V12 Lamborgini will at least feature an all-new engine. It had been speculated that the successor to the Aventador would feature a similar hybrid system to the Sian, but Lambo CEO Stephan Winkelmann has confirmed it won't share tech and instead be all-new.
The 2022 Mercedes SL Is Another Nail In the Coupe-Cabriolet Coffin
Mercedes were the ones who popularized the concept of a folding metal hard-top, promising you the best of both a metal coupe and traditional convertible. But now with the 2022 Mercedes SL, they've all but abandoned the folding metal roof, in favor of the conventional fabric alternative.
Four Times Subaru Pulled A Bait-And-Switch With Its Impreza And WRX Concepts
Concept cars are usually toned down for their production equivalents, and a prime example is Subaru. We compare some of their most tantalizing concept cars to the slightly dulled-down production equivalents as we speculate what the next WRX could look like.
What Else Is Making The News
F1 Title Battle Turns Ugly As Leaders Collide
They say races aren't won on the first lap, and that can't be more true than for Max Verstappen at yesterday's British Grand Prix. Championship leader Verstappen collided with reigning champion Lewis Hamilton, causing a 51G impact with the tire barrier for the Red Bull driver. Hamilton went on to win the race after a 10-second penalty. Verstappen had to be hospitalized but was later given the all-clear. Fans are still at loggerheads over who is to blame, or if it should be chalked up as a 'racing incident.'
Valve Shows Off Its Steam Deck PC Handheld Games Console
Steam Deck reservations are now open to new Steam accounts as well as old! Visit https://t.co/z8R4GUB0hd and log in or create a free Steam account to choose your Deck.
Learn more about Steam Deck at https://t.co/ZOTx3KUCVK. #SteamDeck pic.twitter.com/p8o2IwAIRl
— Steam (@Steam) July 18, 2021
Valve, who is behind the leading PC platform, Steam, has unveiled their new portable console that will be able to play PC games on the go. It starts at $399 and will offer an alternative to the already popular Nintendo Switch.