Nissan Recalls More Than 200,000 Trucks Due To Rollaway Risk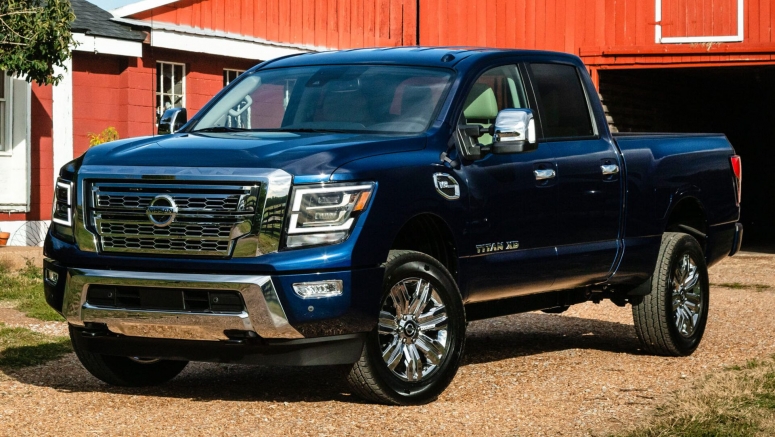 Earlier in the year Nissan Titans and Frontiers were subject to a recall over a potential roll away danger. Now, Nissan and the NHTSA have issued another recall associated with pickup trucks that could roll away. Nissan has yet to come up with a solution and for now, owners are being instructed to engage their parking brake each time they park their trucks.
Back in July, we reported on that initial recall that included more than 180,000 Nissan Frontier and Titan models. The reason for that recall was a dimensional variation in the manufacturing process involving the parking pawl and the boss on the transmission case. This new recall is similar but not identical.
According to documents filed with the NHTSA, "resistance between the parking rod and wedge inside of the transmission housing may inhibit movement of the wedge and parking pawl." If that happens, the pawl itself, which is responsible for holding the vehicle in place while in park, may not engage. The condition is specific to trucks with a nine-speed automatic transmission.
Read More: Nissan Titan Could Be Axed In 2024 Or 2025 With Brand Leaving Full-Size Truck Segment
Nissan knows this because it initiated an investigation after its Canton, MS, plant reported a similar issue on a vehicle made outside of the initial recall. To find the problem, Nissan sent the exact transmission unit in question to its supplier JATCO, who then confirmed that this issue was new.
Nissan then issued a hold on Titan and Frontier models. Then, it conducted a plant audit of 83 vehicles and found 11 in which the parking pawl issue was present. Now, it's recalling a total of 203,223 Titan and Frontier models over the concern.
These trucks include models from 2020 through 2023. Nissan is in the process of determining how to fix the problem and whether or not it might involve other Nissan or Infiniti models. For the time being it's instructing customers to engage their parking brake every time they park their Titan or Frontier.
Affected owners will be notified no later than November 1st, 2022 but owners who want to find out if their truck is involved beforehand can call Nissan directly or contact their local dealer.