Rivian's R1t Is Finally Here, 2022 Mazda Cx - 5 Facelift, And Rav4 Adventure Arrives In Europe: Your Morning Brief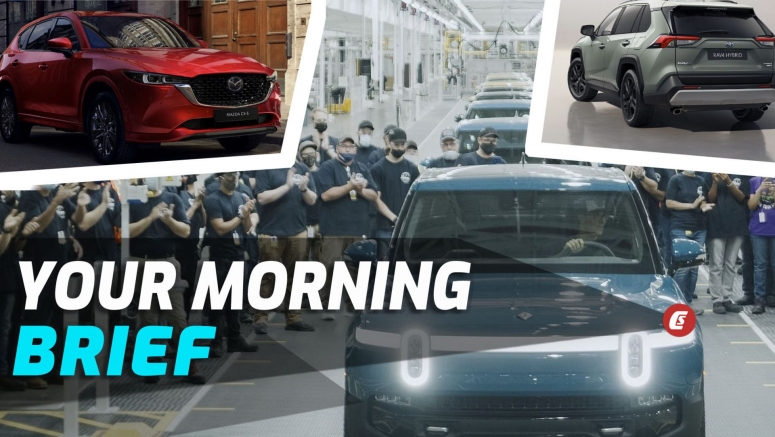 Good morning and welcome to our daily digest of automotive news from around the globe, starting with…
NHTSA Asks 12 Automakers For Help In Tesla Autopilot Investigation
NHTSA's investigation into Tesla's spate of crashes into emergency vehicles has led the authority to ask for help from other automakers. According to Reuters, NHTSA sent letters out to GM, Toyota, Ford, VW, and others as it conducts a "comparative analysis." It's unknown whether the investigation will single out Tesla's system, or find fault across the board when it comes to autonomous driving tech.
Rivian R1T Finally Goes Into Production, Becomes First American-Made EV Pickup Of The Modern Era
Despite the delays, the highly anticipated Rivian R1T has finally gone into production, and in doing so becomes the first American-Made EV Pickup Of The Modern Era. The R1T originally debuted at the 2018 Los Angeles Auto Show, with a 2020 launch pushed back thanks to the pandemic. The first R1Ts will be Launch Editions that start at $73,000 and are already sold out.
2022 Mazda CX-5 Revealed With Standard AWD And Refreshed Styling
It's a subtle refresh for the 2022 Mazda CX-5, which features a redesigned front bumper and grille, new LED headlights, and thinner LED taillights. There are new trim levels, dependent on where you live, and the interior also gets a few upgrades. Cabin changes include redesigned seats, a wireless phone charging tray, as well as a new Off-Road mode in the drive select options.
China Has 300 EV Makers And The Government Wants Them To Consolidate
According to China's Industry and Information Technology minister, Xiao Yaqing, there are too many EV companies in the country. So, the Chinese government may just force some of them to merge and collaborate. Beyond its encouragement that EV companies consolidate, the ministry is trying to address the ongoing semiconductor supply shortage and recently fined three automotive chip distributors for driving up prices.
2022 Toyota RAV4 Adventure Arrives In Europe With Rugged Styling And Small Updates
The 2022 RAV4 range has been updated for Europe, and it includes a new RAV4 Adventure. The 2022 RAV4 Adventure gets the same bumper design as the US-spec Adventure model, differentiating it from the rest of the EU-spec range thanks to the different grille, intakes, and silver skid plates front and rear. There are also redesigned LED headlight graphics and LED foglights making their appearance in European markets. Deliveries are expected to begin in the first quarter of 2022.
EPA Confirms That The Volkswagen ID.4 AWD Pro Is More Efficient Than A Ford Mustang Mach-E AWD
The Environmental Protection Agency has certified the ID.4 AWD Pro electric vehicle as having 249 miles of range, while the fancier ID.4 AWD Pro S gets 240 miles of range. With official figures like that, it beats its closest competitor, at least in efficiency terms, the Mustang Mach-E. However, the Mach-E AWD Extended gets up to 270 miles of range, a figure that is more likely to attract consumers' attention than an efficiency figure.
The 2023 Mercedes-AMG GLE Coupe Is Getting An Aggressive Makeover
The facelift for the 2023 Mercedes GLE will bring with it a new GLE 53, now spied with a more expressive front bumper with sportier air intakes. There are also revised headlights as well, although changes to the engine line-up remain unclear for now.
What Else Is Making The News?
iPhone 13 Revealed With Portrait Video And The Option Of 120Hz
Get the news from the #AppleEvent here. Meet iPhone 13 Pro, iPhone 13, Apple Watch Series 7, Apple Fitness+, iPad, and iPad mini. Swipe to explore
— Apple (@Apple) September 14, 2021
The brand new iPhone range was unveiled yesterday, the highlight of which was a new "portrait video" mode where users can use selective focus to blur out the background while filming. Other updates were incremental, including new colors and the Super Retina XDR display, as well as a 120Hz ProMotion display available only on the iPhone Pro Max.
Apple Rushes To Patch iPhone Security Flaw 
Apple issued emergency updates to fix a flaw that allows highly invasive spyware to infect anyone's iPhone, Apple Watch or Mac computer without so much as a click. https://t.co/rcWZ9bZufZ
— The New York Times (@nytimes) September 13, 2021
The discovery of the security flaw that potentially left all iOS systems vulnerable couldn't have been worse timed. The so-called "zero-click" spyware would have allowed hackers to access devices through iMessage without a user clicking a link. Apple has issued the iOS 14.8 and iPadOS 14.8 software patches to combat the issue.