Super Loud Modded Toyota Century And Mercedes S600 Remind Us Of The V12's Greatness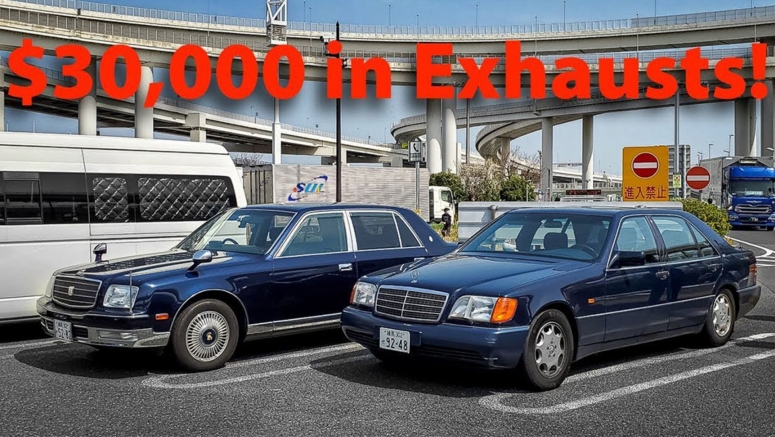 YouTuber and automotive photographer 'effspot' owns two of the loudest cars anywhere in Japan and no, they're not supercars. Instead, one is a Toyota Century and the other is a Mercedes-Benz S600, both of which feature insane aftermarket exhaust systems.

We've talked about these two insane creations in the past and in the video below, get to see the two driving side-by-side and producing the type of cacophony you would have found at a Formula 1 race during the V10 era.
Both of the cars in question feature bespoke exhausts from a little Japanese company by the name of Brilliant Exhaust. Effspot had his S600 customized first and fitted with an 'F1' exhaust by Sasaki-san, the mastermind behind Brilliant Exhaust.
Also Watch: This V12-Powered Toyota Century Sounds Like A Supercar
As the 6.0-liter V12 engine of the S600 formed the basis of the 7.3-liter V12 used by the Pagani Zonda, the fitment of Brilliant's unique exhaust makes it scream much like the Italian hypercar. The exhaust wasn't cheap, however, and reportedly set the YouTuber back a cool $12,500.
Then we come to the Toyota Century. It is fitted with a naturally-aspirated, 5.0-liter V12 engine that just so happens to be the only one of its kind to be ever developed by the Japanese automaker. As standard, this engine delivers 276 hp and is very quiet. Eager to create a Toyota just as loud as his Mercedes, effspot also had it fitted with a Brilliant Exhaust earlier this year, this time at a cost of $18,000.
If you like loud (and unique) cars, something tells us that you will greatly enjoy the video below.