The Hurtan Grand Albaycin Finally Uncovered And It's Like A Mitsuoka From Spain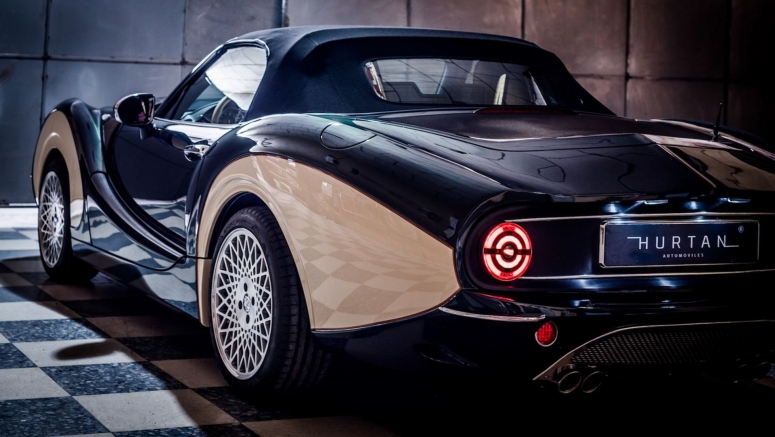 We've been covering Spain's latest sports car for a little more than a week now, and we finally have uncovered, uncamouflaged pictures of the car and, well, it's certainly a look.
As a reminder, the Hurtan Grand Albaycin is the latest in a series of small sports cars with retro coach work. Hurtan's offering uses the Mazda ND MX-5 as its platform and adds body styling inspired by classic sports cars, mainly British.
According to Hurtan, it likes to take inspiration from classics dating all the way back to the '30s through the '60s and you can tell thanks to the pontoon fenders and raised headlights.
I would concede that the two-tone paint job is successful here and earlier spy shots revealed a zhuzhed up interior with fun leather colors. They haven't strayed too far form the Miata's interior, which, though anachronistic, is probably smart.
Also Read: A Design Studio Is Creating A Porsche 914 With Cayman Running Gear
Reports suggest that there will be both a classic and a sporty look. I'm not too sure what that means, but previous spy pictures revealed that Hurtan is working on a convertible and a second one based on the MX-5 RF for more coupe-like feel.
Engine options are pure Mazda, meaning a 1.5L or a 2.0L engine making 132 or 184 hp. That also means a manual or an automatic transmission, disc brakes all around, and everything else you'd expect from an MX-5.
A kerb weight has not yet been revealed, so it's unclear what all the additions have done to the car and whether its suspension will be tuned. We are expecting more information about the Grand Albaycin when order books open on Saturday.
A price has not been revealed yet either, but Hurtan is reportedly only expecting to build 30 Grand Albaycins in 2021, so if it tickles your fancy, you might not want to keep your eyes peeled.
Photo
Gallery