There Is No Other Honda Z600 Quite Like This One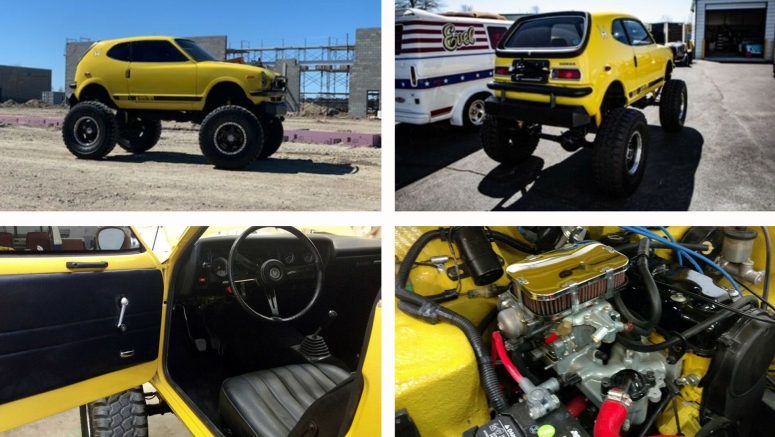 A bizarre 1972 Honda Z600 that has been transformed into a wacky 4×4 is looking for a new home in Richmond, Virginia.

The Honda Z600 was a kei car produced by the Japanese automaker between 1970 and 1974. It was sold in the United States for two of those years and came with a tiny 598 cc two-cylinder engine. This Z600 4×4, however, is far from stock.
For starters, the kei car now sports a 1.3-liter Suzuki engine that is coupled to a five-speed manual transmission. The eBay listing, which ended just a few hours ago without the car being sold, offers no indication as to how much power this 1.3-liter churns out but it wouldn't be a lot.
Watch Also: Driving A Turbo AWD Daihatsu Kei Car Is More Fun Than You'd Expect
Then we come to the wheels. The seller says it has black wheels with 33-inch off-road tires which almost look like monster truck wheels on a vehicle of this size. No details have been given in the listing about what chassis or suspension modifications have been made to support these wheels. However, a little bit of digging online about this very car suggests it sits on the chassis of a Suzuki Samurai.
Adorning the exterior is a fresh coat of original Honda yellow paint while the interior includes black leather and some carbon fiber components.
The seller states the car has 200 miles (320 km) on the clock although we suspect that likely references how many miles it has been driven since the engine swap. The Suzuki engine and the chassis itself likely have much higher mileage.
Getting this modified Z600 isn't cheap as it's Buy It Now price was set at $17,500.
Photo
Gallery