This Toyota C - Hr Owner Has Spent A Little Too Much Time Watching The Punisher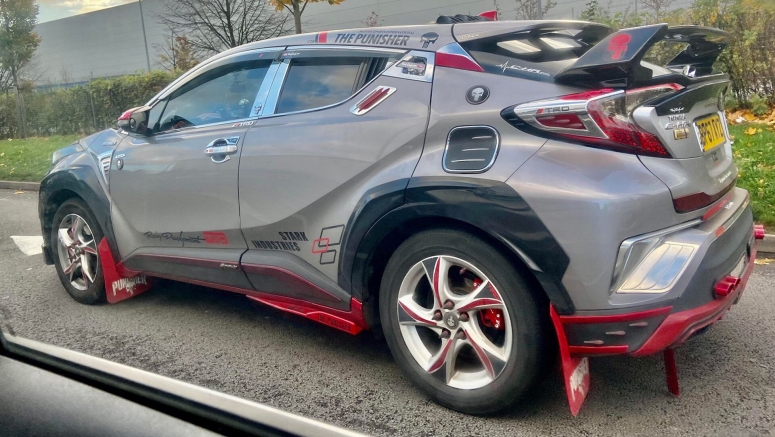 There are a number of wild Hot Wheels cars that have actually spawned life-size replicas, and this Toyota C-HR that was spotted recently seems to be owned by someone who wanted to make their SUV look like a Hot Wheels car.
We're used to seeing some pretty weird and wacky modified vehicles here in the U.S., but this C-HR actually resides in the UK. Evidently, the owner spent a little too much time at an automotive retailer and picked out every exterior accessory they could find.
Starting with the rear, the C-HR has a wing not dissimilar to the wing of the Civic Type R, albeit slightly smaller. It also has a set of aftermarket taillights and the bumper has been adorned with chrome parts, red accents, and four fake exhaust tips. There are also red mud flaps with the branding of The Punisher, a Marvel character.
Read Also: Honda Civic Sedan Tries Way Too Hard To Become A Type R-Lookalike
Elsewhere, the Japanese SUV sports a set of wheels painted white with red and black accents. There's even Punisher center caps and red brake calipers. The red accents and Punisher logos continue on the side skirts and the front mud flaps.
Other changes made to this C-HR include a handful of fake vents applied to the doors, chrome trimming around the doors, and some weird scoops on the roof.
The Redditor who shared these images online didn't post any of the C-HR's front end, but that's probably a good thing as we'd be willing to guess it is just as bizarre as the rest of the car.