Tom's Modified 2020 Toyota Supra Hulks Out In Land Of The Rising Sun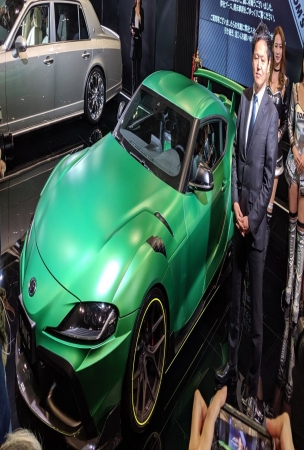 Toyota tuner Tom's, which stands for Tachi Oiwa Motor Sports, brought a couple of modified cars to this year's Tokyo Auto Salon, with this green Supra being arguably the most spectacular.

The price for one of these "Hulked out" Supras is a staggering 14.23 million yen, which amounts to roughly $130,000 – almost as much as what it would cost you to buy a new Porsche 911 GT3.
Thankfully, there's more to this Toyota than meets the eye. First and foremost, it is a limited edition model, where just 99 units will be made, making it instantly more appealing. Then there's the performance of the 3.0-liter turbocharged inline-six engine, which now features a high flow turbine for improved airflow.
Also read: 2020 Supra Is AC Schnitzer's First Modded Toyota, Boasts 394 HP
Together with an ECU tune, its engine mods help this car put down no fewer than 460 PS (453 HP) and 578 Nm (426 lb-ft) of torque, and while we weren't given a 0-60 time, it's safe to assume this thing is seriously fast.
Other mechanical mods include the reinforced chassis, which is now more rigid and is said to improve handling while reducing body torsion during cornering, braking and acceleration. The tuner also worked on the suspension system and the brakes, where the latter now feature 6-piston Brembo calipers and 380 mm discs for improved stopping power.
As for its aggressive appearance, the car is wearing the same wide-body kit as the Super GT500 racing version, but expanded by 85 mm (3.3 inches). Other mods include the carbon fiber side skirts, rear diffuser and bumper garnish, but also the 20-inch Vossen wheels, custom exhaust, a massive rear wing and full bucket seats for the interior.
First deliveries are scheduled to start this summer.
Photo
Gallery