Tom's Racing Throws A Sport Attire On New Toyota Century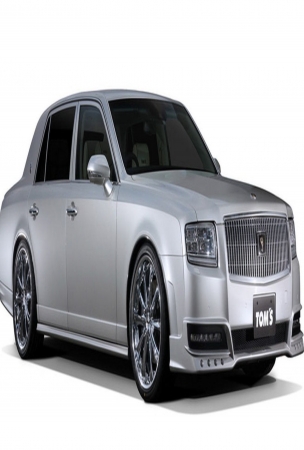 If you've always thought the Toyota Century looked a little too old fashioned for your taste, then perhaps this modded version currently showcased at the 2020 Tokyo Auto Salon will be more to your liking.

The body kit was designed by Toyota tuner TOM's Racing, who will give this car a limited edition run of just 36 units, each costing a staggering 28.1 million yen, roughly $257,000.
For this much money, one would think you get a massive power upgrade but in reality, the tuner only improved the car's throttle response and engine noise, leaving the hybrid power unit as is.
Also read: Tom's Modified 2020 Toyota Supra Hulks Out In Land Of The Rising Sun
Mind you, that's not necessarily a bad thing since the Toyota Century comes equipped with a 5.0-liter V8, good for 375 HP (381 PS) and 376 lb-ft (510 Nm) of torque. An electric motor adds 221 HP (224 PS) and 221 lb-ft (300 Nm) of torque. In total, 425 HP (430 PS) make it onto the road.
Visual upgrades include the silver metallic body kit, which consists of custom front and rear bumpers, side skirts and Daytime Running lights (added to the front bumper). We also spot four oval exhaust tips, 21-inch wheels and a subtle trunk lid spoiler.
As for the interior, there are custom seats wrapped in Fine Nappa leather, although the tuner will let you choose what types of colors and stitching you'd like to see inside. Since this is a luxury car, there's also plenty of standard safety gear, such as the Blind Spot Monitor, Parking Support Alert, Pre-Collision System, Lane Departure Alert, Radar Cruise Control, Adaptive High Beam and HelpNet, all part of the Toyota Safety Sense pack.
First customer deliveries for the limited edition Tom's Toyota Century will commence this summer.
Photo
Gallery