Toyota Gr Gt3 Concept, Subaru's Electric 'ring Challenger, And Honda's North American Hr - V Teaser: Your Morning Brief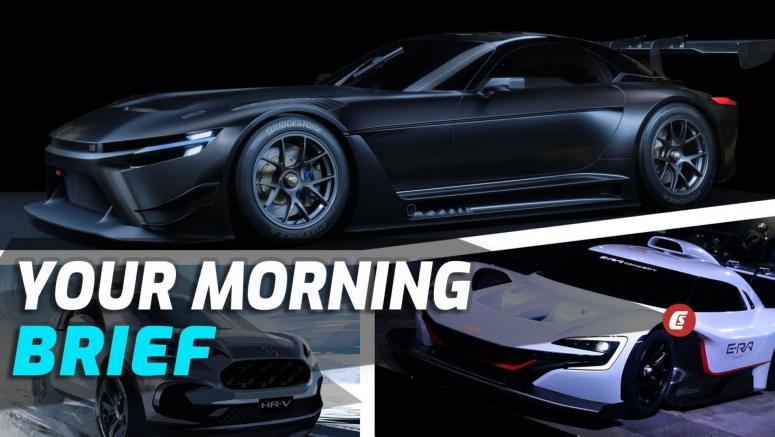 Good morning and welcome to our daily digest of automotive news from around the globe, starting with…
2022 Tokyo Auto Salon Kicks Off
The Tokyo Auto Salon is back, and with it comes a slew of new and tuned cars from Japan's finest. We'll be bringing you all the latest throughout the next few days, including new releases, quirky concepts, and whatever else catches our eye.
Toyota Gets Our Attention With Non-Supra Based GR GT3 Coupe Concept
Toyota's new GR GT3 Coupe Concept looks very different from anything else seen before: mainly because it isn't based on an existing production car. There's no indication that the GR GT3 will make it onto a racetrack or into the customer's hands, but it sure looks the business. Also on display is the bZ4X GR Sport Concept — GR's take on the electric SUV co-developed with Subaru. It features a matte black exterior, sports seats, and larger wheels and tires.
2022 Toyota GRMN Yaris Is A Wilder And Lighter 2-Seater Version Capped At 500 Units
If you thought the GR Yaris was impressive, then the limited-run GRMN Yaris ups the ante somewhat. Available only to the Japanese market, the GRMN Yaris comes in either Rally or Circuit packages. All cars have a closer ratio six-speed manual, are two-seaters with Recaro buckets, and have 545 additional spot welds. Mechanical LSDs are fitted to both the front and rear axles, while other upgrades, depending on the package, include different wheels, new shocks, under-guard sets, and additional carbon bodywork.
Rolls-Royce Boss Thinks COVID Deaths Were Ultimately Good For Business Leading To Record Sales
In what can be considered a rather tone-deaf statement, Rolls-Royce's CEO Torsten Müller-Otvös believes that the growing number of deaths that the Covid-19 pandemic has brought upon us helped people realize that "life can be short." He used the explanation in relation to the brand's record sales last year. "Quite a lot of people witnessed people in their community dying from Covid, that makes them think life can be short, and you'd better live now than postpone it to a later date," he told The Financial Times. "That also has helped [Rolls-Royce sales] quite massively." I guess we should ignore the fact that the rich have better access to healthcare and were overall less affected by the Covid-19 pandemic than the rest of society.
Subaru STI E-RA Electric Concept Charges Into Tokyo With 1,073 Horsepower
Subaru brought two electric concepts to TAS2022. The first is the STI E-RA Concept, which aims to complete a sub-6 minute and 40-second lap of the Nurburgring in 2023. It's powered by four electric motors and an integrated inverter sourced from Yamaha. The Solterra STI Concept is less radical and features a new roof spoiler and red accents across the front splitter, side skirts, and rear diffuser. Also present were STI Performance Concepts of the WRX B4, BRZ, and Levorg.
2023 Honda HR-V Escapes The Design Studio As First Sketches Of North America's SUV Revealed
Honda has given us an idea of what its upcoming North American HR-V will look like. The new car is notably different from its international sibling. It features an oval grille, sweptback headlights, conventional rear door handles, and a two-tone bumper. Specifications remain unconfirmed, but we expect the Civic's 2.0 four-pot engine to make an appearance.
You Won't Believe This Parkour Parking Job From China
Many of us pride ourselves on being good at parking, but not many would be able to find a slot as quickly as this driver from China. In what can only be described as a shocking display of dangerous driving, a black sedan slams into a row of parked cars, mounting the first few and somehow landing in an empty slot.
What Else Is Making The News
China Crude Oil Imports Drop For The First Time In Two Decades
China's measures to reduce excess domestic fuel production have resulted in a 5.4 percent drop in crude oil imports, the first decline since 2001. It's also partly due to 2020's low oil prices, which saw companies build stock as prices were at an all-time low, reports Al Jazeera.
Novak Djokovic's Visa Revoked… Again
Breaking News: Australia revoked Novak Djokovic's visa again, another twist in a drawn-out drama over his refusal to be vaccinated against Covid-19. https://t.co/o6uD8RPplP
— The New York Times (@nytimes) January 14, 2022
Novak Djokovic may be deported after his visa has been canceled a second time. This time, Immigration Minister Alex Hawke said that he had canceled the tennis star's visa with his ministerial discretion on public interests grounds. Djokovic's lawyers are appealing the decision.