Watch The 2022 Toyota Land Cruiser 300 Crash Tests Its Way To 5 - Star Safety Rating In Australasia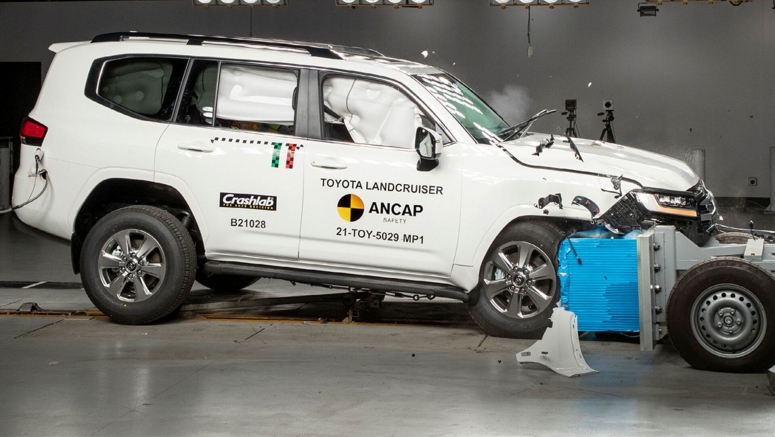 The all-new Toyota Land Cruiser isn't just one of the most desirable SUVs on the market right now but as it turns out, it is also very safe.
Australasia's (if you're wondering, it's a region that comprises Australia, New Zealand, and a few neighboring islands) independent safety group, ANCAP, recently conducted crash testing on the Land Cruiser and awarded it with a five-star safety rating. This comes on the back of impressive performance in all areas.
The Land Cruiser recorded a score of 89 per cent in adult occupant protection and received perfect scores in the side-impact, pole oblique, and far-side impact tests. Child occupant protection was rated at a similarly impressive 88 per cent, although ANCAP notes that top tether anchorages are not available in the third row and the installation of child restraints is not recommended for these seats.
Read Also: Toyota Land Cruiser 300 Series Receives Some Tough Love From Arctic Trucks
ANCAP's testing also awarded the Land Cruiser an 81 per cent score in the vulnerable road user protection category and a 77 per cent score in the Safety Assist category thanks to its use of autonomous emergency braking, lane keep assist, lane departure warning, and emergency lane keeping. Other things the Land Cruiser has going for it are dual front, side chest-protecting and side head-protecting airbags, as well as driver and front passenger knee airbags.
"Larger, heavier vehicles always present higher risks for other road users and this is why ANCAP focuses on a vehicle's ability to either avoid a crash, or reduce its impact, through our suite of Safety Assist tests," noted ANCAP chief executive Carla Hoorweg. "The safety specifications in the new generation Toyota Land Cruiser are a welcome update to its predecessor. The 5-star ANCAP safety rating awarded to the Toyota Land Cruiser will be good news for fleet buyers, rural users, and families across Australia and New Zealand."
The five-star rating applies to all variants of the Land Cruiser except the GR Sport which hasn't been assessed by ANCAP.
Photo
Gallery