You Don't Need To Go Back To The Future To Get A 1985 Toyota Sr - 5 Pickup Of Your Own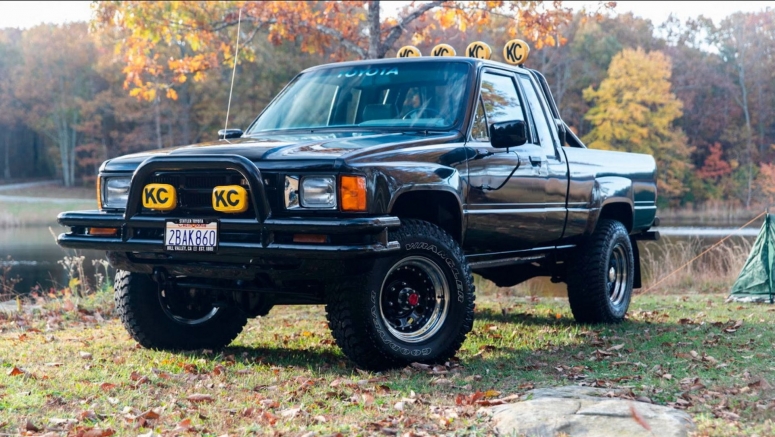 Mecum Auctions wants to save you the trouble of going back in time to fix your parents' relationship in order to get the truck of your dreams. You can simply buy this faithfully modified truck instead.
A 1985 Toyota SR-5 pickup, it has been given the full Marty McFly treatment with a suspension lift, a rollbar, and film-accurate KC off-road lights. That only scratches the surface here, though.
This truck has also been given Smittybilt bumpers, the correct wheels, and even a grey-on-grey interior. Built specifically to replicate the movie truck, it also comes complete with a hoverboard, self-lacing shoes, a Gray's Sports Almanac, a framed poster, and a 1/10th scale remote-controlled model, too.
Read Also: For $37,000, You Can Ride This Rare Red-Painted DeLorean All The Way Back To The Future
Beyond the fact that this is a faithful recreation of the truck seen in the Back to the Future franchise, it's also simply a desirable truck. The 1985 model year of the SR-5 is known by those in the know as "The Unicorn."
The last year in which the truck was still offered with solid axles and the first year that it was offered with electronic fuel injection, it's the only year that the options were available together. Fans of off-roading will be pleased to know that it comes with a five-speed manual transmission, too.
The truck that Back to the Future's protagonist Marty McFly (played by Michael J. Fox) lusted after and eventually earned following his success righting his family's timeline, the truck features in important scenes in all three of the franchise's movies. Although perhaps not quite as recognizable as the time machine DeLorean, it remains a well-recognized and well-loved part of movie history and it can be yours if you attend Mecum's Kansas City Auction between December 2-4.
Photo
Gallery