144 New Cases Reported In Tokyo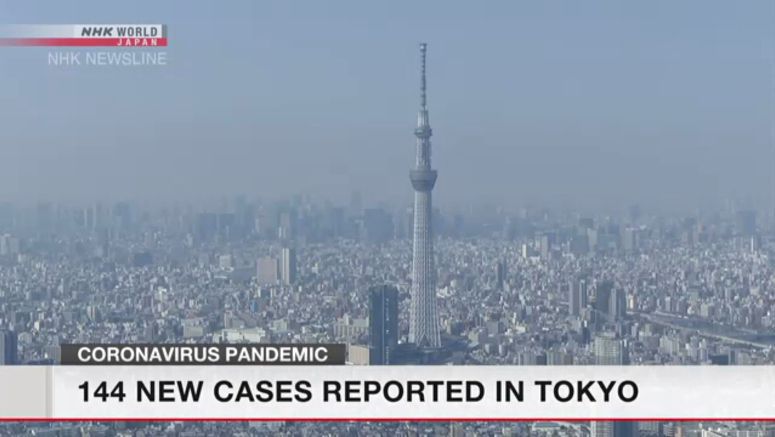 Tokyo officials are reporting 144 new coronavirus cases in the Japanese capital. That's the largest daily increase so far.
More than 1,300 people have now tested positive across the city, which is home to around 14 million people.
The new figure comes a day after the prime minister declared a state of emergency for Tokyo and six other prefectures.
Abe Shinzo is calling for the public's cooperation to help keep the virus from spreading.
Abe said, "I strongly believe that it will be possible to get out of this situation by having the state of emergency in place one month... if we reduce our contact with people by at least 70 percent, or preferably 80 percent."
The declaration covers Tokyo, Kanagawa, Saitama, Chiba, Osaka, Hyogo and Fukuoka. It will be in place until May 6th.
The governors of those prefectures held a teleconference Wednesday morning to discuss how to counter the virus.
They are calling on the central government to support local medical systems, and compensate businesses that close temporarily.
The government is not imposing a lockdown, as some foreign governments have.
Officials want to minimize the impact on economic and social activities.
Public transportation and supermarkets will remain open.
A number of companies have said they will shut down voluntarily, including major department stores and coffee shops like Starbucks and Doutor.
People who came to work in the central business districts had mixed reactions.
A woman said, "Now I understand that the situation is really serious. With staggered working hours, I have been able to spend a bit more time at home."
Another woman said, "I don't know whether the situation will get better in a month or two. I'm worried because this has never happened before and nobody can tell the future."
It was business as usual for staff at transport and delivery companies in Tokyo, supplying products to supermarkets and drug stores.
The only change was the amount of packages.
A male truck driver said, I've never been this busy. I've been delivering twice the amount of goods almost every day."
Transport companies are asking people not to hoard goods as it could disrupt supply chains.
Concerns about the health of elderly residents is also growing. Chiba Prefecture plans to continue operating day services for the elderly. But at this drop-in center, some are already staying away.
Staff fear these people could develop dementia and lose muscle strength if they can't visit the facility.
A facility manager said, "We need to discuss and consider how to support each elderly person as much as possible."
They are also worried many employees with small children will be unable to work because schools are closed.
Across Japan... the pace of infections is increasing. More than 4,700 people have now tested positive.That figure excludes 712 cases from the Diamond Princess cruise ship, which was quarantined near Tokyo.
109 people have died, including 11 from the ship.