1st Weekend Under Expanded State Of Emergency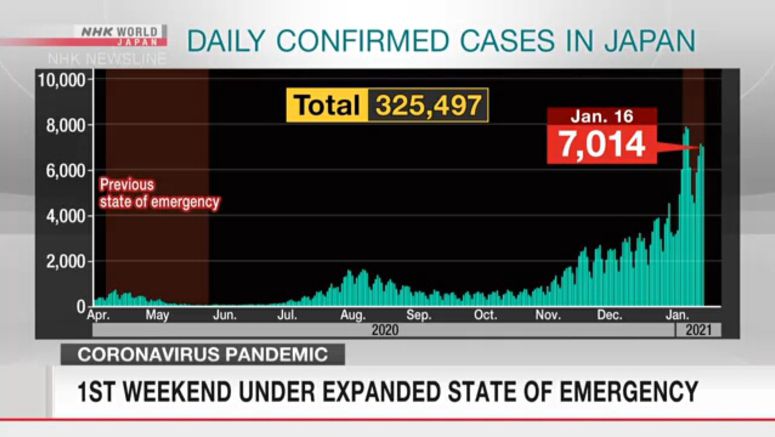 Japanese leaders are calling for greater cooperation from the public to help tackle a surge in coronavirus infections. They're urging people to stay home this weekend---the first since a state of emergency was expanded to 11 prefectures.
The largest hot spot is the capital, Tokyo, where local officials reported 1,809 new cases on Saturday.
Government officials say crowds in urban areas haven't declined as much as they did when Japan issued a state of emergency last spring. They're urging people to avoid going out in public at any time of day unless it's essential.
But some people in Tokyo say it's not easy to avoid going out. Others say further steps are needed.
Tokyo officials are using advertising screens in Shinjuku to broadcast an appeal by the minister in charge of the coronavirus response.
Economic Revitalization Minister Nishimura Yasutoshi said, "The situation is extremely serious. Please refrain from going out, or traveling between prefectures, unless it's urgent."
Officials are proposing a change to Japan's key anti-virus law that would give the legislation more teeth.
They say the revision would mean that businesses which refuse to shorten their hours during the state of emergency could be fined up to about 4,800 dollars.
Health authorities reported 7,014 new cases on Saturday. That brought the total number of infections in the country to 325,497.
Health officials reported 56 deaths. The overall death toll has now risen to 4,489.