3rd State Of Emergency Takes Effect In Japan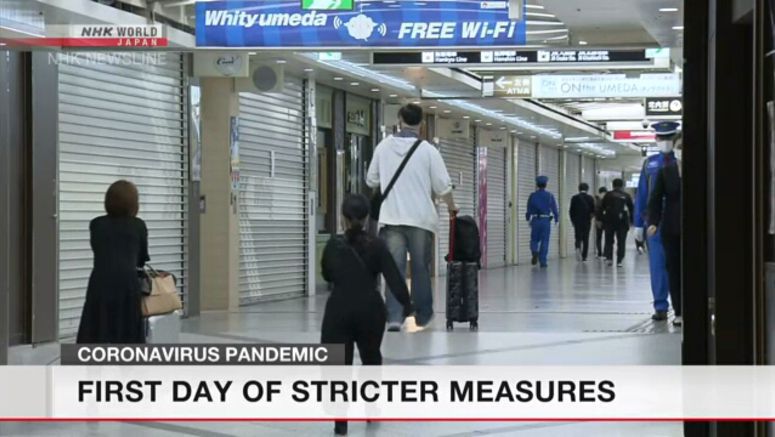 Japan's third coronavirus state of emergency took effect in Tokyo and three western prefectures on Sunday. It remains to be seen whether 17 days of restrictions will be enough to curb the spread of the virus.
Bars and restaurants that serve alcohol or offer karaoke are being asked to close, along with shopping malls and other large facilities.
This department store in Tokyo has been shut down, apart from floors selling food and other daily necessities.
Matsuya Ginza's official said, "The upcoming weeklong holidays are crucial for our sales. It was an extremely difficult decision to close most of the store."
Some parts of Tokyo remained busy with people going shopping or sightseeing.
A man in his 20s said, " There are still so many people. They aren't taking the state of emergency seriously anymore."
The Tokyo Metropolitan government reported over 635 new infections on Sunday, marking a week-on-week increase for the 25th straight day.
The western prefecture of Osaka continues to be the largest hotspot in the country.
Officials reported 1,050 new cases on Sunday, topping 1,000 for the sixth day in a row.
The 180 shops in this underground arcade were closed when the state of emergency took effect.
In the ancient capital of Kyoto, temples and shrines have shortened their opening hours.
Ninna-ji Temple's Oishi Ryujun said, " I hope life will get back to normal soon so people can have peace of mind. I will keep praying and working hard until then."
The minister in charge of the coronavirus response wants people to avoid non-essential outings.
Economic Revitalization Minister Nishimura Yasutoshi said, " I am sorry to cause people so much inconvenience. But please remind yourself how things were a year ago when the first state of emergency was in place. I must ask you to curb outings more drastically this time. "
The government is also taking steps to accelerate the vaccination program. It plans to set up large vaccination centers in Tokyo and Osaka next month. Doctors and nurses from the Self-Defense Forces will be deployed to help vaccinate up to 10,000 people per day.