4 Governors Request Lifting State Of Emergency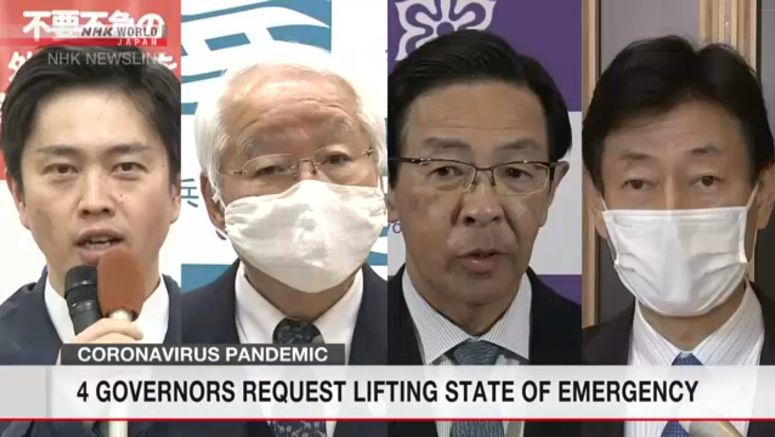 In Japan, governors of four prefectures have asked the central government to end the coronavirus state of emergency a week earlier than originally planned. They asked that it be lifted by the end of February.
The governors of Osaka, Hyogo and Kyoto held a video conference with the minister in charge of the coronavirus response on Tuesday. Their request was based on an overall improvement in the situation, including fewer new daily cases.
Osaka Governor Yoshimura Hirofumi says some restrictions will continue after the decree ends. He said, "Overall, we will continue asking restaurants and bars to shorten hours. Then we will ask the central government for financial support as we can't afford it on our own anymore."
Yoshimura said he asked the central government to continue providing up to about 380 dollars in daily support for businesses that agree to shorter hours even after the emergency declaration is lifted.
The governor of Aichi Prefecture also made a request to end the state of emergency by end of February.
But officials of neighboring Gifu Prefecture remain cautious about lifting the declaration due to a cluster involving over 200 cases.
The central government plans to discuss the requests on Wednesday. Economic Revitalization Minister Nishimura Yasutoshi, who is in charge of coronavirus response, said, " As for these areas, we would like to make decisions on the correct timing after examining and analyzing infection figures and hearing from experts."
Meanwhile, in the capital area, the governors of Tokyo and three neighboring prefectures agreed that the rate of decline in the number of cases has not been fast enough to lift the state of emergency.
Tokyo Governor Koike Yuriko said, "To get out of the current situation, each individual's cooperation is needed. We need to show our strong will to end the emergency on March 7."
The Tokyo Metropolitan Government confirmed 275 new cases on Tuesday. Officials say the healthcare system in Tokyo remains under severe strain.