61 New Cases Confirmed At Us Bases In Okinawa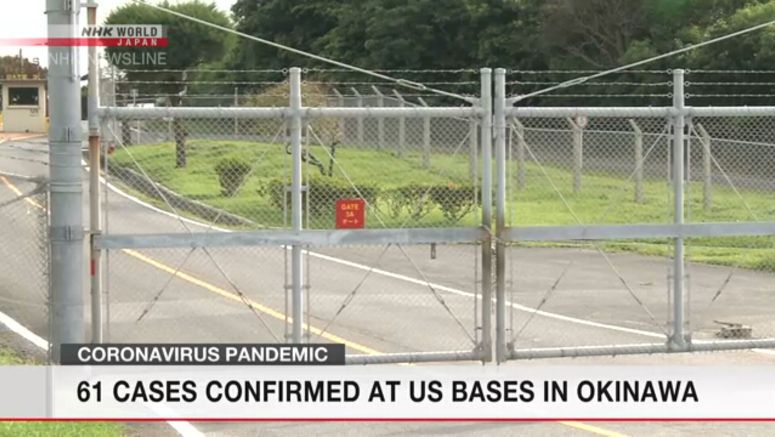 The prefectural government of Okinawa, southern Japan, says it has received reports of 61 cases of coronavirus infection that have been confirmed among people connected to the US military.
Thirty-eight were at the US Marine Corps Futenma Air Station, and 23 at Camp Hansen.
Sixteen cases had been confirmed previously at those two facilities.
The Marine Corps wrote on its Facebook site on Saturday that two clusters of infections were detected this week.
It says it has limited traffic using the gates of those two bases to some military personnel.
Okinawa Governor Tamaki Denny said on Saturday he finds it disappointing that many new cases involving people with links to the US military have occurred in a short period of time while the prefecture as a whole has committed itself to prevention of infections.
He also said he has strong doubts about the efficacy of the US military's preventive measures.
The prefectural government also announced on Saturday that it has confirmed two new coronavirus cases in the prefecture.
It says the man in his teens and another in his 20s, both from Saitama Prefecture near Tokyo, were visiting Okinawa. Another member of the group tour in his 30s from Saitama tested positive the previous day. They have been staying in Okinawa since Thursday.
Other members of the group tested negative.
The two tourists have been hospitalized despite having no symptoms.
Okinawa has confirmed new coronavirus cases for four consecutive days. The prefectural tally is now 148.