70% Of Us Youth See No Need For Nuclear Arms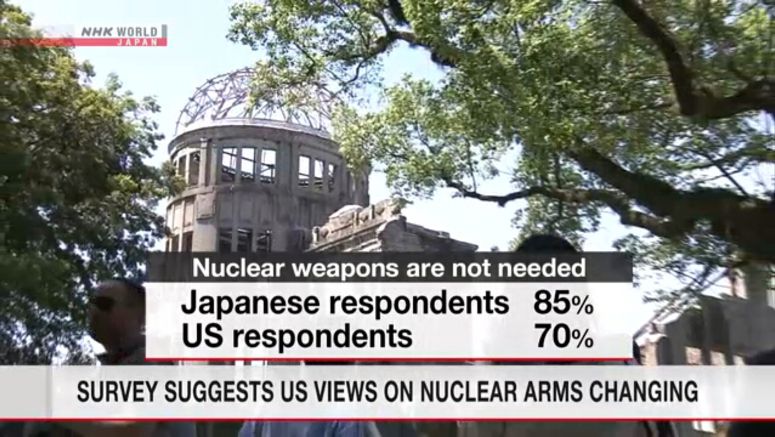 A survey conducted by NHK's Hiroshima bureau has found that about 70 percent of young Americans think that nuclear weapons are unnecessary.
The station conducted an online survey this year on three groups of people between the ages of 18 and 34, ahead of the 75th anniversary of the US atomic bombings of Hiroshima and Nagasaki.
The first group was residents of Hiroshima Prefecture, the second was people elsewhere in Japan and the third was residents of the United States. Around 1,000 from each group responded to the survey.
Asked whether nuclear weapons are necessary or not, about 87 percent of the respondents in Hiroshima and 85 percent elsewhere in Japan said they are not.
Around 70 percent of the US respondents gave the same reply. The reason most American respondents gave was that such weapons kill and injure many people. Others cite the excessive destructive power of nuclear arsenals and different ways to settle international disputes.
The American respondents were asked about their views of the US using atomic bombs against Japan 75 years ago. 41.6 percent said the use was "unforgivable", while 31.3 percent said it was "necessary".
A 2015 survey by US pollster Pew Research Center showed that 47 percent of young Americans between the ages of 18 and 29 said that the use of atomic weapons was justified. The results cannot be compared due to different survey methods.
Meiji Gakuin University Professor Takahara Takao says the argument that the atomic bombings made it possible to end the war has been prevalent in the US, but that public perception, especially in younger generations, has been changing in the last ten years, partly due to education.