88 New Infection Cases On Diamond Princess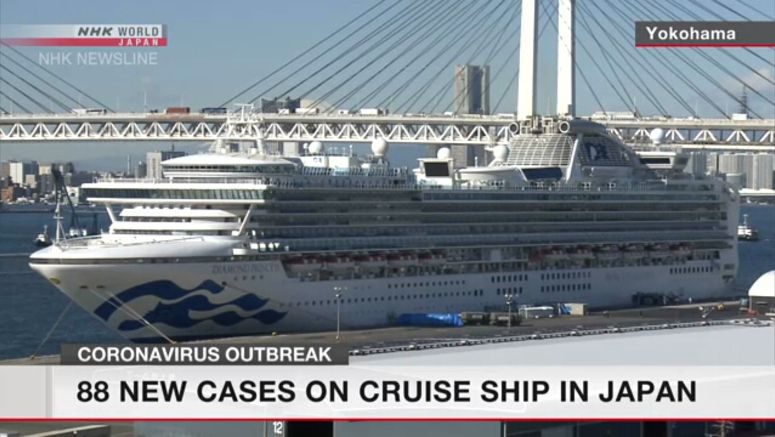 Japanese health officials say 88 more people on a quarantined cruise ship have tested positive for the new coronavirus, bringing the total number of confirmed cases from the ship to 542.
Health ministry officials say that of those recently confirmed infected, 65 are not showing any symptoms.
The Diamond Princess was carrying around 3,700 passengers and crew when it first docked just outside Tokyo this month.
The ship is the biggest hotspot for coronavirus infections outside mainland China.
The two-week quarantine period for those still aboard ends on Wednesday.
Japan's health minister Katsunobu Kato said passengers will be able to leave the ship if they test negative for the virus.
He said, "We understand that passengers want to return home as soon as possible and we'll make sure our procedures go smoothly."
Meanwhile, several countries and territories are going forward with plans to bring their citizens home.
A South Korean presidential plane landed in Tokyo on Tuesday to transport four of the country's citizens and a Japanese spouse who asked to be evacuated.
Hong Kong's government plans to send two chartered flights by Wednesday to pick up passengers from Hong Kong, Macau and China who are not infected.
The Philippine government is also considering sending a chartered plane. Its embassy in Tokyo says about seven passengers and about 530 crewmembers are on the ship.
The US brought home 330 of its citizens on two chartered flights on Monday.