Abe Declares State Of Emergency For 7 Prefectures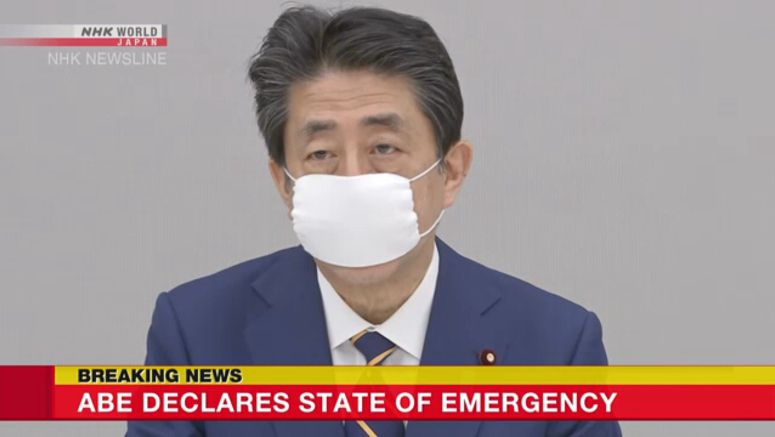 Japan's Prime Minister Abe Shinzo has declared a state of emergency for Tokyo and six other prefectures over the coronavirus outbreak.
Other than Tokyo, the declaration applies to the neighboring prefectures of Kanagawa, Saitama and Chiba, as well as Osaka, Hyogo and Fukuoka prefectures in western Japan, through May 6.
Abe made the declaration at a meeting of the government's coronavirus task force at the prime minister's office on Tuesday.
He said the advisory panel has noted the high likelihood of people infected with the virus developing pneumonia and other severe symptoms.
The panel warned that the number of cases is surging, with many of them untraceable, severely straining the medical system.
Abe said he has judged that the rapid nationwide spread of the virus could significantly impact people's lives and the country's economy, and therefore declared a state of emergency based on a revised law enacted last month.
Abe added that he will lift the declaration when the measures to be implemented become unnecessary.
He also said there will be no lockdown like in other countries, and that public transportation and other services needed to keep the economy and society going will be maintained as much as possible. He added that efforts will be made to curb the spread of the virus in closed and crowded places where people have close contact.
Abe stressed that the key is changing people's behavior. He said experts estimate the number of patients will peak in two weeks if person-to-person contact is reduced by 70 to 80 percent.
He urged the public to stay home to achieve that reduction over the next month.
Abe then instructed his Cabinet to work closely with prefectural governments to contain the virus, with priority on protecting people's lives and health in this time of national crisis.