Abe Offers Silent Prayer To Mark Disaster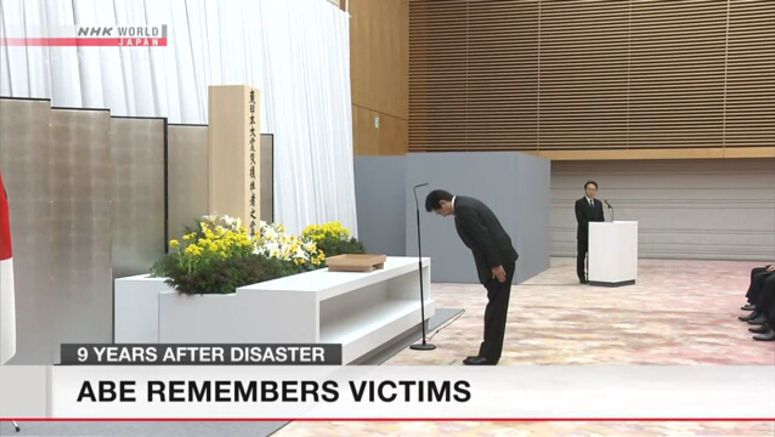 Prime Minister Shinzo Abe and other Cabinet Ministers mourned the victims of the earthquake and tsunami that hit northeastern Japan in March, 2011.
Abe and 20 others, including Disaster Management Minister Ryota Takeda and Reconstruction Minister Kazunori Tanaka, attended the event at the prime minister's office on Wednesday.
They offered a silent prayer at 2:46 p.m., the exact time the powerful earthquake occurred on March 11, 2011.
Abe then delivered a speech in which he offered his sincere condolences to those who lost their loved ones. He also expressed sympathy to everyone who was affected by the disaster.
While reconstruction efforts in disaster-hit areas are steadily under way, many survivors are still forced to live an uncomfortable life in temporary housing. Abe said the government will continue to help them. He added that it will keep working to enable former residents of areas affected by the nuclear accident in particular to return to their hometown.
Abe said Japan has repeatedly been hit by disasters that can be regarded as national crises, but it has overcome each of them with courage and hope. He said he hopes to follow in the footsteps of ancestors and move forward together.
The government has held a memorial ceremony annually on March 11 since the disaster. But it canceled the event this year due to the new coronavirus outbreak.