Abe Urges 'extraordinary Disaster' Declaration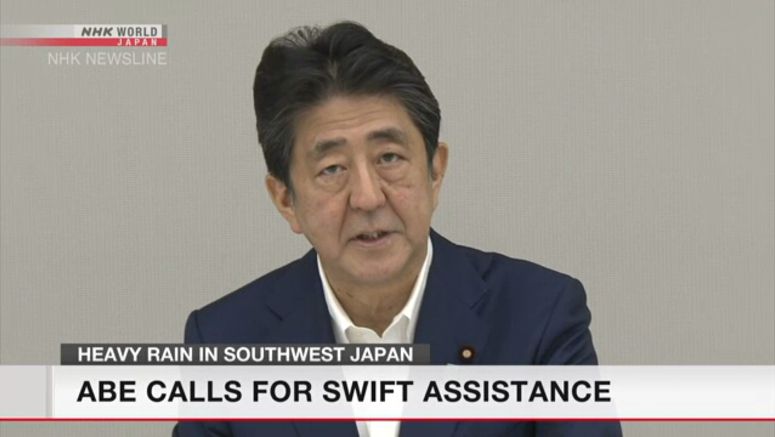 Prime Minister Abe Shinzo has instructed a government taskforce to speed up work to declare the torrential rain in southwestern Japan an "extraordinary disaster." That would enable victims to receive special support to rebuild their lives.
Abe said on Tuesday that many districts in affected areas have been cut off by floods and landslides. He asked for continued efforts to rescue and support survivors, and to search for the missing.
Abe also said that the number of Self-Defense Force personnel on a disaster relief mission will be doubled to 20,000, to meet the growing demand for help with eating and bathing.
Abe said large amounts of debris and mud have accumulated in affected regions and that removing them as quickly as possible will be the first step for survivors to rebuild their lives.
He told his taskforce to work with local governments on continued effort to collect and dispose of such waste.
Abe also instructed the group to accelerate work to designate the heavy rain as an "extraordinary disaster," to help put the lives of survivors back in order while assessing the damage.
He said heavy rain is forecast across wide areas of Japan, as the rain front is expected to linger near the main island of Honshu through Thursday.
He called on people across Japan to be on the alert, and to get the latest information from local governments to take measures without delay to protect their lives.