Abe Visits Fukushima Ahead Of 9th Anniversary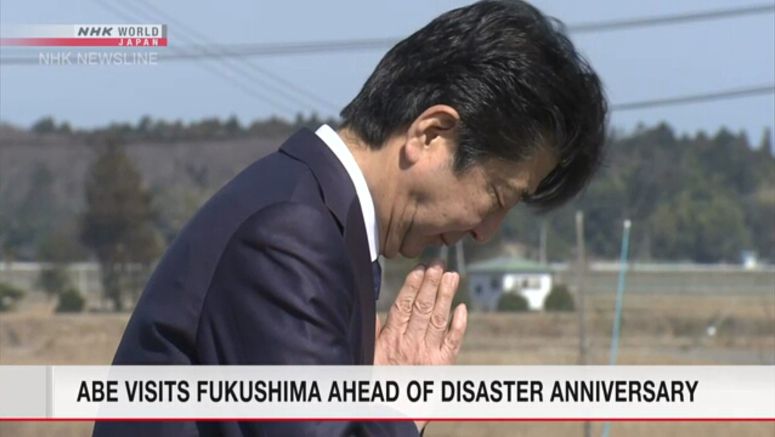 Prime Minister Shinzo Abe visited disaster-hit towns in Fukushima on Saturday ahead of the ninth anniversary of the earthquake and tsunami that struck northeastern Japan on March 11, 2011.
Abe laid flowers and offered silent prayers to the victims of the disaster at a cemetery in Namie Town on the Pacifc coast that morning.
He also visited neighboring Futaba Town where an evacuation order from the Fukushima Daiichi nuclear accident in place since 2011 was partially lifted earlier this month.
The Futaba railway station is included in the newly opened area. Mayor Shiro Izawa briefed Abe at the station on the town's rebuilding efforts.
A section of the Joban railway line running through the town, which was halted by the nuclear accident, will reopen on March 14.
Abe attended the opening ceremony of a new interchange on an expressway near the Fukushima Daiichi plant. The new interchange will facilitate residents' access to Futaba as well as vehicle access to the nuclear plant now undergoing decommissioning.
Abe also attended the opening ceremony of one of the world's largest hydrogen production facilities in Namie, inspected manufacturing equipment and drove a hydrogen-powered car.
Abe told reporters that he wants people to work together to build a new Fukushima where not only evacuees but people from around the country can come and live.
He said the government will increase subsidies to help create an attractive work environment and promote migration to Fukushima. He stressed that without the reconstruction of Fukushima, Japan will never be fully restored.